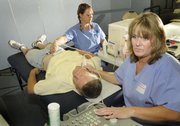 Health screenings
Stroke Detection Plus will provide screenings from 9 a.m. to 4:30 p.m. Wednesday at Hy-Vee Food Store, 4000 W. Sixth St. To make an appointment, call (877) 732-8258. For more information, visit www.strokedetectionplus.com.
Life Line Screening will offer screenings from 10 a.m. to 4 p.m. Oct. 27 at Lawrence Free Methodist Church, 3001 Lawrence Ave. It also will be in town Nov. 20 at the Union Pacific Depot, 402 N. Second St. To make an appointment, call (877) 237-1377 or visit www.lifelinescreening.com.
"We can help you avoid stroke."
"Detect your risk for stroke in less than 10 minutes."
These are the claims on fliers recently distributed by two companies that provide health screenings in the Lawrence community and elsewhere.
These companies say they will use ultrasound technology to test your risk level for:
¢ Stroke. They check the carotid artery in the neck for blockage of blood flow to the brain.
¢ Abdominal aortic aneurysm. They check the lining of the major blood vessel to see whether it is enlarged, which could lead to rupture.
¢ Peripheral arterial disease. They check the blood vessels in the legs for plaque buildup.
¢ Osteoporosis. They check for abnormal bone density.
One company also tests for atrial fibrillation, or irregular heart beat. Both companies charge about $130 for the package of tests or about $40 for individual ones.
Is it worth the expense? It depends on whom you talk to.
The companies back their claims.
Officials with Ohio-based Life Line Screening and Iowa-based Stroke Detection Plus said doctors often can't order these tests for patients and have their insurance cover it because they aren't exhibiting signs or symptoms.
"The scary thing about the conditions that we screen for are they are considered silent conditions, so they don't have a lot of signs or symptoms until you're experiencing the heart attack or stroke," said Katherine Hagge, wellness coordinator with Stroke Detection Plus.
They recommend screenings for anyone with these risk factors: age 40 and older, family history of strokes, high cholesterol, smoking, diabetes, high blood pressure, inactive lifestyle, heart disease or more than 20 pounds overweight.
'Firm believer'
Wallace Ala, 77, of Leavenworth, was screened for his risk of a stroke in April by Stroke Detection Plus, and he said it saved his life.
"If I hadn't done it, I would probably be dead," Ala said.
The screening detected that he had only a trickle of blood flow through his right carotid artery. After further testing with his doctor, he had surgery two weeks later. Now he is doing fine.
"I am a firm believer," he said.
Ala, and his wife, Frances, 70, both get tested every year. Frances said the tests are worth the money.
But some doctors urge caution. They are concerned about the technology, the expertise and value that patients might place on such screenings.
"I think the important thing is when people have this done even if it looks OK, they need to share this information with their physicians," said Dr. Stephanie Lawhorn, a Lawrence cardiologist. "No test is ever 100 percent foolproof as far as I am concerned, and so this is a type of a screening, but it is only a screening. ... If someone is having symptoms of a potential stroke, I don't think that is the place they need to go to see if they have a problem or not."
'No benefit'
Dr. Gary Gronseth, medical director of the stroke program at Kansas University Hospital, doesn't recommend the screenings for two reasons: First, the tests can have false positives. They cause the patients to worry and require additional tests, only to find out that there wasn't significant blockage. Second, the surgical procedures can put the patient at more risk than the potential for stroke.
"There's really no benefit to it and there's potential harm from it," Gronseth said.
His advice: Don't pay for the screenings, see your doctor regularly and get the risk factors - high blood pressure, smoking and high cholesterol - under control.
"They will get much more benefit from that than these screenings," he said.
That's the same stance taken by the U.S. Preventive Services Task Force, an independent panel of experts that reviews evidence of effectiveness.
"They recommend that patients receive screenings in their usual care provider's office, so that they can participate and share in the decision making and really figure out what makes sense for the patient," said Kristie Kiser, spokeswoman for the Agency for Healthcare Research and Quality, which sponsors the task force.
But Scott McGlothlen, president of Stroke Detection Plus, said such screenings are being offered in many hospitals. He also said they use top-notch technology and professionals and the latest research.
He added the screenings are designed to spur those at risk for cardiovascular disease to take action.
"We've been telling people that they have high cholesterol, that they are smoking and going to end up with heart disease, but people won't change. They are like, 'that's 20 years down the road. I am going to enjoy my cigarette today,'" McGlothlen said. "We show them a picture where it looks like you are looking right down a garden hose and you can see that 10 to 30 percent of that is filled up with this plaque deposit. Guess what just happened to their willingness to change?"
During a Life Line Screening clinic on Oct. 2 in Lawrence, several of the day's 48 customers said they were being proactive about their health and wanted to know their potential risk. Some had the screenings because their doctors recommended them; others came on recommendations from neighbors or family.
Carol Hermsen, 67, of Lawrence, had her first screening after talking it over with her doctor, who said the tests would cost about $300 if done at the office, but warned that they might not be as thorough. She wanted to pay for them anyway.
"You may have a problem and not know it. It's a good preliminary thing to do," she said.
Copyright 2018 The Lawrence Journal-World. All rights reserved. This material may not be published, broadcast, rewritten or redistributed. We strive to uphold our values for every story published.