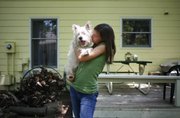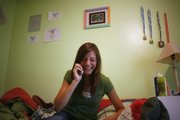 On the street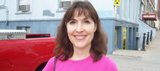 I think it depends on how much makeup and what kind it is. I think it's kind of a gradual thing.
If real life were a never-ending "High School Musical" film, every girl would have a cell phone, a boyfriend and perfectly highlighted hair.
Off the Hollywood sound stage, real parents are trying to figure out exactly when - or if - to let their girls have some of trappings of the characters they see on screen.
It's a quandary Lawrence's Kathy Occhipinto, a mother of three will be facing.
So far, her two girls - Cailey, 8, and Rylie, 7 - have made it easy on her. They haven't asked for cell phones, belly shirts, hair dye or anything else they've seen on characters on "Hannah Montana" and "Zoey 101." The girls instead prefer to stick to more traditional girlie needs, like getting their ears pierced and having a say in their hair cuts - when they asked for bangs, they got bangs.
But even if Abby Olker's mom gave her the same go-ahead, the 13-year-old wouldn't really be interested. Abby says that she's not all that interested in highlighting her hair, or mirroring images in magazines or TV shows.
"I don't really want to dye my hair," Abby says. "All the shows I watch aren't realistic."
But Occhipinto has seen signs even her 8-year-old wants to grow up quickly.
"When she runs an errand with mom, she carries her purse with her. Just trying to look a little more grown-up, I think," Occhipinto says. "I think there's a lot more pressure to fit in, and with the whole 'Hannah Montana,' 'Zoey 101,' just watching those and, I think, trying to emulate some of that."
Hairy topic
Cierra Hollins has her wish list of what she'd like her parents to allow.
"Have a cell phone, be able to do your own hair and maybe a perm," the 11-year-old says. "I just wanted a perm so when I get in the water (at the pool) it doesn't go back to curls. I want it to be straight."
Plenty of young girls are venturing into hair salons asking for services that were once reserved for older girls and women, says Mark Chapman, owner of Lada Salon and Spa, 4931 W. Sixth St.
Some services - such as coloring at age 7 or 8 - are refused because the hair isn't fully developed yet. But he says about 40 percent of preteen customers get eyebrows waxed, and some get body treatments.
"Kids are growing up a lot faster, wearing make-up earlier, flat-ironing their hair before 10," Chapman says. "Before, you'd never see that, and I think the media and magazines have something to do with that."
Adolescent girls also are nudging their way into another arena once perceived as adult-only.
"I've heard requests for tattoos as young as 14 and 15, and for piercings as young as 9," said Chris Lahue, tattoo artist for Skin Illustrations, 725 N. Second St. "We don't do anything that young because, frankly put, most adolescent teenagers do not take care of their tattoos and piercings well enough."
He says his business doesn't perform those services on anyone under the age of 16.
Girls to women
Yo Jackson, associate professor of clinical child psychology at Kansas University, agrees that the advertising plays a role in how quickly girls grow up.
"There are a lot of images out there that suggest girls at earlier and earlier ages can be very provocative," Jackson says. "Some products are said to sexualize younger girls, but ultimately someone has to buy it. If parents create a culture where that stuff is important then the child will to."
Martha Straus, author of "Adolescent Girls in Crisis," says parents still have a big influence in their children's lives.
But she worries that advertisers now are dodging parents and going straight for children. And tweens - children between 8 and 14 - bring in large revenues to companies that target them effectively.
"Getting little girls to look like women is a multimillion-dollar market," Straus says. "We are erasing markers of distinction between children and adolescents and between adolescents and adults. They're not children anymore, they're consumers."
Copyright 2018 The Lawrence Journal-World. All rights reserved. This material may not be published, broadcast, rewritten or redistributed. We strive to uphold our values for every story published.