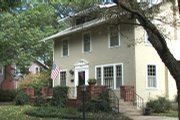 Go Click It
www.designholeonline.comDesign Hole Online posts a handy how-to guide for painting over laminate furniture. Before-and-after pictures provided.
www.katie-d-i-d.blogspot.comThis site provides a virtual peek inside the September issue of Architectural Digest, which features the homes of designers.
Join "Home and Away" this week for a tour of an almost century-old Massachusetts Street home and its recent renovation.
Host Lori Carson visits with Lawrence homeowners Karen and Chuck Warner in their 1912 residence and discusses the renovation process of the home's kitchen.
Transforming the dark, narrow, galley-style kitchen into a more functional space suited for cooking and entertaining was an initial source of contention for the couple.
"When we first looked at the house, we had two different reactions," Karen Warner says. "I said, 'Great house, but too much work.' Chuck said, 'I think we can do this.'"
Many of the Warners' personal treasures complement the home's historical ambiance. A Civil War-era reunion ribbon quilt is a framed keepsake from Karen's great-grandmother, and many antique furniture pieces throughout the home have been passed down from prior generations of both families.
Other features of the home include a quaint garden patio, a sleeping porch and a "munchkin ballroom."
"Home and Away" premieres at 6:30 p.m. Mondays on Sunflower Broadband Channel 6. Each show replays at 9:30 p.m. Monday; 9 a.m., 5:30 p.m. and 9 p.m. Tuesday; 9:30 a.m. and 7 p.m. Wednesday; 10 a.m. and 7:30 p.m. Thursday; 10:30 a.m. Friday; 10 a.m. Saturday; and 9 p.m. Sunday.
Copyright 2018 The Lawrence Journal-World. All rights reserved. This material may not be published, broadcast, rewritten or redistributed. We strive to uphold our values for every story published.