Photo Gallery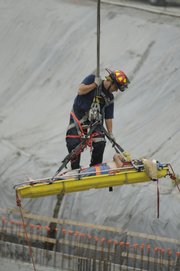 Oread Inn accident
On Oct. 13, a construction worker at the Oread Inn was injured after falling from a concrete ledge. He was transported by helicopter to a Kansas City-area hospital.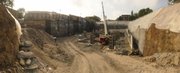 Fire and medical and construction workers teamed up Monday to lift an injured worker with a crane from the bottom of the Oread Inn site near the Kansas University campus.
Chief Mark Bradford, of Lawrence Douglas County Fire & Medical, said the man suffered injuries that were not life threatening, but he was hurt enough to warrant taking him by helicopter ambulance to Kansas University Hospital in Kansas City, Kan.
Monday afternoon, construction supervisors were optimistic the injured worker could be released from the hospital either by Monday evening or this morning.
"It was just a freak accident. It was a freak deal," said Larry "Cowboy" Wiezorek, the project superintendent for Gene Fritzel Construction.
The injured man has been a carpenter for about seven years for Lansing-based Leavcon Concrete Construction, a concrete subcontractor for the project, which has been dug out near the corner of 12th and Indiana streets.
Wiezorek said the carpenter was complying with safety standards. He wore a harness and was fastened to a concrete forming wall that had been moved down into the site. At some point, the carpenter lost his balance, and it caused the wall to tip over on top of him.
Other workers lifted the wall off him.
"I looked down and saw the guy who got hurt just lying there," said Brett Beyer, a KU junior who lives at the nearby Alpha Epsilon Pi fraternity.
Medics with Lawrence-Douglas County Fire & Medical used a crane on the site to lift the patient on a stretcher onto Indiana Street. They loaded him into an ambulance, and minutes later, he was transferred into a LifeStar helicopter ambulance that had landed outside Memorial Stadium.
The companies did not identify the injured man. Brent Leintz, Leavcon's project manager, said the carpenter briefly lost consciousness at the scene, and he suffered a broken wrist.
Bradford said the department routinely trains for this type of rescue. Typically they might have to use a ladder fire truck though, he said.
"There's already a crane in place here," Bradford said. "There's professional crane operators, so we were able to work with them in connecting the basket to the crane and lifting the person up out of the area over to safe point where we could then move them to an ambulance."
A medic stood on the yellow bucket stretcher to help stabilize it on the lift. Two other medics used ropes from the ground to help provide security.
Wiezorek said the company's safety officer was working on an investigation Monday. On the job site, they have one or two safety meetings each week, he said.
"We believe in our people's safety. We put that before anything else, always," Wiezorek said.
The superintendent also said he had worked with the injured carpenter on other jobs before.
"He's one of the best employees I've seen in the concrete industry. He's very conscientious. He's very safe," Wiezorek said.
Part of Indiana Street is closed to traffic as work continues on the $37 million hotel project.
Bradford said the department had no trouble getting vehicles near the site for the treatment and rescue.
"The construction company has done a great job of maintaining that access, and we didn't have any access problems," Bradford said.
The fire chief said his department would not investigate the incident, adding that the Occupational Safety and Health Administration would handle any probe. Because Monday was a federal holiday, attempts to reach OSHA officials were unsuccessful.
The development group hopes to have the seven-story, 106-room hotel and condo development open by January 2010. The injury is not expected to delay construction, Wiezorek said.
Copyright 2013 The Lawrence Journal-World. All rights reserved. This material may not be published, broadcast, rewritten or redistributed. We strive to uphold our values for every story published.