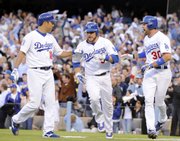 Los Angeles — Manny Ramirez and the Los Angeles Dodgers were tired of getting brushed back in the NL championship series, so they came out ready to fight back against Philadelphia.
Blake DeWitt's bases-loaded triple off Jamie Moyer capped a five-run first inning, and the feisty Dodgers beat the Phillies, 7-2, in a testy game Sunday night to trim Philadelphia's lead to 2-1 in the best-of-seven series.
The benches and bullpens emptied in the third inning, moments after Los Angeles starter Hiroki Kuroda threw a pitch over Shane Victorino's head, with an angry Ramirez barking at the Phillies.
But there were no punches or ejections, and the Dodgers played with poise all night.
"We just want to play the game right," Ramirez said. "We're a team, and we need to protect each other. I wasn't trying to get anybody. I was there just in case anything happened. I just wanted to go out there and protect my teammates. I don't fight nobody. I'm a lover."
Kuroda pitched effectively into the seventh for the Dodgers, who will try to even the series tonight. Game 1 loser Derek Lowe, working on three days' rest, will face Philadelphia's Joe Blanton.
"We're not back yet," Ramirez said. "They won two games, we've got one. The game (tonight) is going to be real important, so that's the game that counts."
Kuroda buzzed Victorino in an apparent attempt to retaliate for Brett Myers throwing behind Ramirez in Game 2. Plate umpire Mike Everitt immediately warned both teams, and Victorino shouted at Kuroda while pointing at his own head and upper body.
"Someone was bound to get hit. The situation called for it," Victorino explained. "Just don't throw at my head."
Victorino grounded out to first baseman Nomar Garciaparra, then exchanged words with Kuroda near the bag. Both dugouts cleared and the bullpens followed.
Kuroda said afterward through a translator that he tried to throw inside, but the ball slipped out of his hand.
Dodgers third base coach Larry Bowa and Phillies first base coach Davey Lopes appeared to be two of the angriest participants in the near-scuffle, yelling at each other before the teams cleared the field. Ramirez also came in from left field and had to be restrained by teammates, manager Joe Torre and an umpire.
"The ball just got a little bit away from Kuroda," Dodgers catcher Russell Martin said. "The last thing we're trying to do is hit somebody in the head. We were just trying to get him uncomfortable up there a little bit.
"Those guys have been swinging the bats pretty well. It's just baseball. They've been throwing up and tight on us, and it got us a little uncomfortable."
Copyright 2018 The Associated Press. All rights reserved. This material may not be published, broadcast, rewritten or redistributed. We strive to uphold our values for every story published.