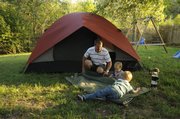 "Going green" can get expensive. Just ask Travis Evans.
Evans and his wife, Kelly, would like to buy a hybrid car and a tankless water heater. They want to explore the possibilities of utilizing solar and wind energy at their Lawrence home.
But those are big-ticket green items, and because of the sorry condition of today's economy, the Evanses have put those ideas on hold.
"The economy may inhibit some of the things you can do to be green, but there are also some things you can do that are green to help you get through (the bad economy)," says Evans, a real estate agent.
So the Evanses will continue recycling and doing the little things to conserve energy and save money, including turning off extra lights, saving water and not littering.
Other green-minded Lawrence residents are following similar eco-friendly strategies.
Allison Roepe has access to her daughter's garden in North Lawrence, and she plans to take advantage of it. She is considering building a Hoop House to extend the growing season through cold weather months. A Hoop House is a brand name for a type of greenhouse held up by PVC pipe.
"Groceries are just getting outrageous," Roepe says about increasing food prices. "I've got so many allergies and chemical sensitivities that I really depend on organic food. If I have to start eating nonorganic, I'll eat less."
Next year Roepe expects to be harvesting tomatoes, peppers, melons, squashes, beans and peas.
"I'm going to try to do some canning," she says.
A bigger, better garden also is in the future for Kim Bellemere and her husband, Frank. But before winter arrives the couple plan to do more to insulate their rural Lawrence house.
"We're on propane out here, and it's getting very expensive," Kim Bellemere says.
Earlier this year the water heater in the Bellemere's house went out, and the couple considered replacing it with a tankless system. But they found that system to be too expensive. Such water heaters run from $500 to several thousand dollars.
Going green, however, doesn't necessarily mean paying more, Kim Bellemere says.
"I think there is a misperception that it is going to be so expensive to go green, but I think costs are offset so much by changing habits," she says. "If you are really mindful about how you're living your life, you are going to find some savings."
Travis Evans agreed. His family is still learning how to be more green.
"Our family has a long way to go as we're just getting started, but we're willing to learn and do what we can," he says.
Copyright 2018 The Lawrence Journal-World. All rights reserved. This material may not be published, broadcast, rewritten or redistributed. We strive to uphold our values for every story published.