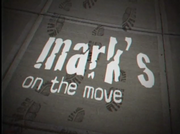 "Mark's on the Move" is a feature segment as 6News anchor/reporter Mark Boyle searches for the often untold and overlooked stories in our community. This is a great chance for you the viewer to weigh in on and add to the stories that we are unable to cover through our daily news coverage.
Mark is looking for your participation, comments and suggestions. "Mark's on the Move" will appear Sundays throughout the fall online at LJWorld.com, during the Sunday 10 p.m. broadcast on 6News and in the Sunday edition of the Lawrence Journal World.
Blogging on the Move
While there are many similarities between the movie "Best in Show" and the actual sport of showing dogs, there are also many differences. For one, the sport is far more difficult than any movie can depict. Just like any other sport, the best in the biz make dog handling look easy. I was able to handle "splash," a Portuguese water dog who is a very well known locally, we see the results.
Many handler/owners show dogs for a living. Others call the sport a mere hobby. I call it dedication.
Copyright 2018 The Lawrence Journal-World. All rights reserved. This material may not be published, broadcast, rewritten or redistributed. We strive to uphold our values for every story published.