Photo Gallery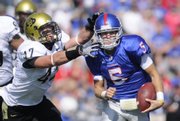 KU vs. Colorado
Audio Clips
2008 KU-CU football
Spodcasters
Spodcasters Postgame: Colorado
The guys (Tom Keegan, Jesse Newell) give their observations following KU's 30-14 victory over Colorado. They also look ahead to next week, when the Jayhawks will take on an angry group of Oklahoma Sooners.
Going Deep
Sizing up the Sooners
In this week's episode of Going Deep, Matt Tait and Eric Sorrentino talk with Jake Trotter, Oklahoma beat writer for The Oklahoman. Trotter talks about the joys of covering one of the nation's top teams and, along with breaking down the matchup, offers the KU football team a little advice on how to survive the Sooners.
Kansas coach Mark Mangino made a promise shortly after his team's 30-14 victory over Colorado on Saturday at Memorial Stadium: The Jayhawks' struggling special teams would be improved. And quickly.
"I'll get that corrected," a visibly upset Mangino said. "If there's one thing that I do here during my tenure as head coach, I'm going to get these special teams squared away here.
"It's been a strong suit of our program since the day I came here. We've won some games over the years when we had lesser talent than the opponent, but we won the field-position battle, and we're not doing that.
"I'll make sure that we get that corrected. That is my No. 1 priority going into practice this week."
KU's special teams had difficulties in nearly every phase.
Daymond Patterson fumbled a punt return, and so did his replacement, Dexton Fields.
Jacob Branstetter missed a 39-yard field goal, and Marcus Herford averaged just 13 yards on two kickoff returns against Colorado, the worst kickoff-coverage defense in the nation.
"I think right now it's not the schemes, nor is it our ability, but it's more of our effort," KU safety and special-teamer Darrell Stuckey said. "I think we'll go out there, and we'll have to fight and find the people that want to be out there."
For the second straight week, KU's offense started nearly every first-half possession deep in its own territory.
The Jayhawks' average starting field position on their first five drives was their own 16-yard line.
"It's tough when you get the ball on the 10-, 15-yard line, because you have a limited playbook," KU quarterback Todd Reesing said. "You can't take too many risks and give them a short field. That was tough, and that was a lot of the reason we couldn't get things going in the first half, was because our field position was so poor.
"It isn't something that we can control on offense. We would like to get a little more help there on special teams."
In the past, Mangino has placed many of his offensive and defensive starters onto his special teams.
He said, because of injuries, there hadn't been as many regulars on the unit this year.
"We've given some guys an opportunity to get out there and play - given them a chance to get in the game, get a little sweat going, be a part of it and contribute," Mangino said. "Some guys have taken advantage of that, and others have not.
"After today's exhibition, I have to make changes, whether it's personnel or schemes or both. We're going to make changes.
"We're not going to do this any more."
Copyright 2018 The Lawrence Journal-World. All rights reserved. This material may not be published, broadcast, rewritten or redistributed. We strive to uphold our values for every story published.