Photo Gallery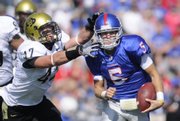 KU vs. Colorado
Audio Clips
2008 KU-CU football
Spodcasters
Spodcasters Postgame: Colorado
The guys (Tom Keegan, Jesse Newell) give their observations following KU's 30-14 victory over Colorado. They also look ahead to next week, when the Jayhawks will take on an angry group of Oklahoma Sooners.
Meier hampered
Despite another standout performance in a season that - so far - has been filled with them, Kansas University receiver Kerry Meier looked far from healthy in the Jayhawks' 30-14 home victory over Colorado on Saturday.
Meier, who entered the weekend ranked second in the nation in receptions per game, caught nine passes for 94 yards, but was moving gingerly Saturday and was on the sideline for multiple Kansas third-down opportunities, situations in which the sure-handed junior usually thrives.
Following Saturday's game, Meier brushed off multiple questions about his health, opting instead to talk generally about the success of the team's offense against the Buffaloes.
Asked if he was healthy, however, he implied that he could be playing through pain.
"I go out and try to play 100 percent," Meier said. "I might not be all the way there, but I'm going to play my heart out and see how things go."
Blakesley ailing
Kansas defensive tackle Caleb Blakesley had to be helped from the field late in the second quarter of Saturday's game due to an undisclosed injury.
"I'll get the medical report here later on this afternoon," KU coach Mark Mangino said. "I don't know. It was not encouraging when I talked to the trainer briefly on the sideline, so we'll see. He's been playing great football for us; we hope he's not lost for a long period of time, but we'll have to wait and see."
Blakesley, a junior from Ottawa, has started all six of Kansas' games this season, his second as a starter on the team's defensive line and his third as a regular contributor.
Special-teams shakeup
Following a dismal performance from his team's special teams unit, Mangino said alterations to the unit - including the use of starters - are likely.
Though injuries have prevented him from using starters on special teams to this point, the coach said performances like Saturday's, in which the Jayhawks struggled with everything from punting to kick returns, cannot continue.
"We're trying to keep them healthy and not worn down," Mangino said of his starters. "... (But) all it takes is one guy to break down. You can do everything perfect with 10 guys (on special teams), and one can break down."
KU-OU to kick off at 2:30 p.m.
The Jayhawks' game against top-ranked Oklahoma on Saturday in Norman, Okla., will kick off at 2:30 p.m., the schools announced Saturday.
The game, which is the first between the two schools since 2005, will air live on ABC.
The Sooners, who began the week at No. 1 in the Associated Press poll, are coming off a loss to fifth-ranked Texas, but both teams likely will be ranked entering the game.
Copyright 2018 The Lawrence Journal-World. All rights reserved. This material may not be published, broadcast, rewritten or redistributed. We strive to uphold our values for every story published.