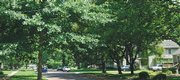 Welcome to our ongoing project, LJWorld.com/Green. Here you can find tips on how to make your life environmentally friendly and read stories about what others in the community are doing to live a more green lifestyle. Eat local, conserve resources, be green.
Alternative fuels and energy conservation efforts were on display Saturday in a Sustainable Business Tour that took participants from the banks of the Kansas River to the basement of a Massachusetts Street landmark.
"When I go on tours like this and the sustainable homes tour, I'm just so happy and enthusiastic," said Daniel Poull, chairman of the city's Sustainability Advisory Board, "but when you look around, we have a long way to go."
Saturday's tour began at Zarco 66 Earth Friendly Fuels filling station at the southeast corner of Ninth and Iowa streets. The station sells ethanol and biodiesel.
Participants then headed to Bowersock Mills and Power Co., the state's only hydroelectric plant.
The plant currently is putting out about 2,000 kilowatts of power an hour, enough to service 650 to 700 homes, said Rich Foreman, plant manager, but the plant is working to nearly double its size with a new facility on the north side of the river. The company has applied for preliminary permits and is awaiting licensing, with plans to start construction in about two years.
Foreman discussed the benefits to hydroelectric power. "It's green," he said. "It's renewable. As long as we have rain, we'll be able to produce hydroelectric power."
The tour bus also stopped at the Community Mercantile Co-op, 901 Iowa, where a recent renovation included a new energy-efficient refrigeration system, and The Castle Tea Room, 1307 Mass., where the recent renovation project has included ground-source heat pumps that are about 30 percent more efficient than standard pumps, radiant floor heating, and a natural gas-fired boiler.
"For me, it's a pleasure to see the people who are actually doing the things we've been talking about and preaching for so long," said Russ Rudy, a Jefferson County resident who took the tour. "All of the improvements that they're making are the right thing to do."
The tour was part of the 13th annual National Solar Tour, an event coordinated by the American Solar Energy Society. Several related activities are upcoming, including the Lawrence Energy Conservation Fair, set for 10 a.m. to 5 p.m. next Sunday at Free State High School.
Events
On Wednesday, the city will sponsor a lecture by Nancy Jackson, executive director of the Climate and Energy Project, at 7 p.m. at the Lawrence Arts Center, 940 N.H.
Next Sunday, the city will be host to the eighth annual Lawrence Energy Conservation Fair from 10 a.m. to 5 p.m. at Free State High School, 4700 Overland Drive.
A Sustainable Homes Tour is set for next Sunday. Bus tours will leave at 10:30 a.m. and
2 p.m. from Free State. Tickets are $8 for adults and $2 for children and will be available at the fair at 10 a.m.
The free event will feature speakers on home weatherization, energy-efficient remodeling, solar energy usage and other topics.
Copyright 2018 The Lawrence Journal-World. All rights reserved. This material may not be published, broadcast, rewritten or redistributed. We strive to uphold our values for every story published.