On the street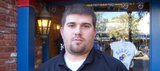 I believe so. It would give people access to other opinions and candidates, especially if they're not agreeing with either party right now. We don't often get a chance to hear their views.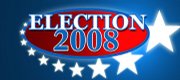 In-depth coverage of the candidates and the issues, all leading up to the Aug. 5 primary and the Nov. 4 general election.
Independent presidential candidate Ralph Nader in Lawrence called Congress "cowardly" Thursday for passing last week's $700 billion financial bailout bill.
"Wall Street stuffed Washington into the barrel and rolled it," he said during a speech at Abe & Jake's Landing, 8 E. Sixth St.
The 74-year-old longtime consumer advocate and frequent presidential candidate had about 400 people cheering at times, as he said Congress missed the boat on not going after "Wall Street crooks." He also said the international market has already rejected the bailout as ineffective.
"What it left out were all the important safeguards for investors, workers and institutions to protect them from the fallout of the greatest speculative binge in American history," Nader told reporters.
He said the bailout bill should have included more regulation, an emphasis on going after corporate crime, protection for homeowners and a small tax on certain trades.
"Congress could have made the speculators pay for their own bailout," Nader said.
With his running mate Matt Gonzalez, a prominent San Francisco political activist, Nader's campaign will visit all 50 states. They are on the ballot in 45, including Kansas.
Nader criticized the two-party system as broken and said voters would choose between the "lesser of two evils." He also slammed the organization of presidential debates, from which he has been excluded.
Mainstream party candidates Barack Obama and John McCain have not had to answer tough questions about issues the mainstream media and two-party system does not want to address, Nader said.
"What's lost is peace advocacy. What's lost is consumer protection, worker rights and taxpayers' rights," he said.
Saying his campaign wanted to reach out to those feeling disenfranchised by American politics, Nader also stumped for a living wage, more funding for public works and government financing of health care.
Some in the audience said it was refreshing to hear a presidential candidate criticize the bailout and speak at length about health care issues.
"I've been watching the presidential debates, and I've heard more honest discussion about the issues in the past half hour," said Kansas University senior Ben Barthell, of Lawrence.
Copyright 2018 The Lawrence Journal-World. All rights reserved. This material may not be published, broadcast, rewritten or redistributed. We strive to uphold our values for every story published.