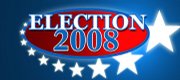 In-depth coverage of the candidates and the issues, all leading up to the Aug. 5 primary and the Nov. 4 general election.
At a forum Monday evening in De Soto, the two candidates for the Kansas 38th District House seat saw a different message in the predominance of school finance in the state's annual budget.
For incumbent Republican Anthony Brown, Eudora, the importance lawmakers placed on K-12 education was easily demonstrated.
"It's 50 percent of our budget," Brown said. "It's always on our minds. The controversy is how we are going to fund it."
Even with its central importance, education had to be considered with other state commitments, said Brown, who is seeking his third term in the House.
In a theme she would return to throughout the forum, Lawrence Democrat Stephanie Kelton said the budget was a manifestation of the state's values. As the state's No. 1 budget expenditure, K-12 education should be addressed by the Legislature as it addresses transportation and develops a long-term comprehensive revenue program, she said.
"I'm very troubled by the way school finance is approached," she said. "It doesn't need to be addressed year to year."
Brown and Kelton were among the candidates running for the two Kansas House and two Senate districts partially in the De Soto school district who participated in a forum dedicated to education Monday at a De Soto school board meeting.
Asked how the Legislature could fund education for the 2009 fiscal year without raising taxes if the state's property values declined in the current economic crisis, Kelton said it would be difficult in a school funding system so dependent on property taxes. But she disagreed with 10th District Senate Republican candidate Mary Pilcher Cook's remark that school districts might have to tighten their belts as part of statewide cuts.
The Legislature should look elsewhere to save money before cutting education, Kelton said.
Further consolidation of the state school districts, a cost-saving measure a De Soto board member suggested, was politically difficult and a challenge in western Kansas where it could force students to ride buses for more than an hour, Brown said. But he said there were opportunities for consolidation in places such as Nemaha County with its five school districts.
Short of consolidation, districts need to explore more shared programs as a way to reduce costs, Brown said.
Kelton, an economics professor at the University of Missouri-Kansas City, said she would determine whether a cost-benefit analysis justified closing schools and consolidating districts.
Local school boards should be allowed to make a similar analysis, Brown said when asked whether he supported an additional $7 million for preschool education.
"Is that the best way to improve educational quality or should we make that money available and let you decide how to best spend it?" he asked the board members.
Kelton said she supported additional preschool spending, taking exception to studies 39th District incumbent Owen Donohoe cited that question the long-term effectiveness of the programs.
"There's lots and lots of research out there showing the value of all-day kindergarten and pre-kindergarten," she said. "The research shows you get a $7 return on your investment. It's a question of priorities. You pay for what you care about."
Copyright 2018 The Lawrence Journal-World. All rights reserved. This material may not be published, broadcast, rewritten or redistributed. We strive to uphold our values for every story published.