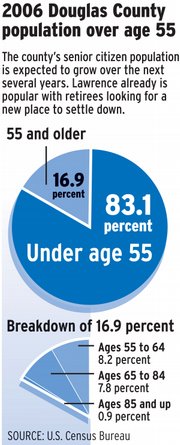 By 2030, 20 percent of all Kansans are expected to be age 65 and older. Lawrence is already attracting a growing number of retirees, people with a connection to the university, those with children living here and others who just seem to enjoy the community. Can Lawrence capitalize on this growing population, and at what cost?
Douglas County is preparing for the onslaught of a "silver tsunami."
Nearly 30 community service organizations and businesses formed a coalition this year to see how the county can better serve those age 65 and older.
"The service providers in the county realize that what we call the 'silver tsunami,' this group of aging baby boomers, are looking toward Lawrence as an established retirement mecca community," said Lucas Houk, community liaison representative for Midland Hospice.
"Our society is going to be focusing more and more on people over 65," said Laura Bennetts, founder and co-owner of Lawrence Therapy Services.
Bennetts and Houk are co-chairs of the Douglas County Coalition on Aging, which meets once a month at the Lawrence Senior Center, 745 Vt. It partnered with the Voter Education Coalition in organizing candidate forums and posed questions about issues affecting senior citizens.
The coalition also plans an assessment of local services for seniors and how they can be improved over the next 10 to 15 years. Researchers at Kansas University are involved with the coalition and will help with the assessment, Bennetts and Houk said.
The coalition's main areas of interest are transportation and housing for the elderly as well as work force employment issues. It also is looking at future needs for hospital beds as well as space in nursing homes and assisted living centers.
Many of the service needs of the elderly are being met now, but their growing population means an explosion of needs in the future, Bennetts and Houk said.
But an influx of retirees doesn't necessarily mean they will be a burden to the community, Bennetts said. They may retire and move to Lawrence and open a small business while continuing to work, she said.
"They bring retirement money and they invest their money, but they still need some services," Bennetts said. "The city and county need to look at the benefits of bringing people to town."
Call 842-0543 to join the coalition.
Copyright 2018 The Lawrence Journal-World. All rights reserved. This material may not be published, broadcast, rewritten or redistributed. We strive to uphold our values for every story published.