Photo Gallery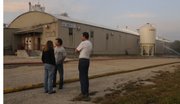 1927 Moodie Road fire
Investigators have classified Sunday's fire at Free State Brewing Co.'s eastern Lawrence facility as accidental due to an electrical malfunction.
"It definitely had the characteristics of an electrical fire," said Chuck Magerl, Free State's proprietor. "We knew it wasn't an issue of any accumulated debris or any flammables or anything of that nature."
The fire department estimated the fire caused at least $1 million in structural and equipment damage at the building the company leases in the 1900 block of Moodie Road. Investigators worked with an electrical engineer to identify the ignition source as a loose connection to an air compressor that helped burn a room the size of a small office.
The compressor was plugged into an industrial outlet, but fire investigators did not determine if the defect came during installation, the use of the outlet or if it was a problem with the product.
"That's what the ignition source was for the fire, and so our determination of that is where we will stop our investigation," said Division Chief Rich Barr, fire marshal with Lawrence Douglas County Fire & Medical.
Magerl said the company spent most of Monday working with insurance representatives. The fire department turned the building back over to them late Monday afternoon.
Firefighters extinguished the blaze early Sunday on the western side of the brewing and bottling facility - a major expansion project for the downtown Lawrence company. It took firefighters fewer than two hours to get the fire under control.
Barr said firefighters were careful because that type of steel or metal roof on the building - a bowstring truss roof - has a tendency to become deformed during a fire. But firefighters were able to open up the building and extinguish the fire with water. No firefighters were injured, and the building was unoccupied.
For months, Free State has been overhauling the 12,000-square-foot facility to expand the company's production capacity. The site, in the former A.B. Coker Building, had been renovated with everything from new floors to new plumbing and electrical work.
Free State will continue brewing at its downtown and restaurant site. As for the expansion facility in eastern Lawrence, Magerl said the process needs to run its course.
"This isn't something that we want to make any rush judgments on," he said. "The decisions we make here are for something that can be of value to use the next 20 to 25 years. As overwhelming and urgent as this process is, we still want to make sure that we're not acting in haste."
Copyright 2018 The Lawrence Journal-World. All rights reserved. This material may not be published, broadcast, rewritten or redistributed. We strive to uphold our values for every story published.