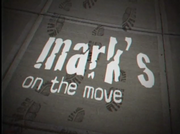 "Mark's on the Move" is a feature segment as 6News anchor/reporter Mark Boyle searches for the often untold and overlooked stories in our community. This is a great chance for you the viewer to weigh in on and add to the stories that we are unable to cover through our daily news coverage.
Mark is looking for your participation, comments and suggestions. "Mark's on the Move" will appear Sundays throughout the fall online at LJWorld.com, during the Sunday 10 p.m. broadcast on 6News and in the Sunday edition of the Lawrence Journal World.
Blogging on the Move
Baseball, basketball, football, swimming, tennis, soccer but never marching band : until today. My introduction to the sport came at the hands of the Lawrence High School marching band and was an eye-opening experience at that. The skill that it takes to play an instrument at the high school level is astounding, let alone having to march in precise steps as well.
The band is wonderful entertainment during each sporting event, but their dedication to practice and play well on Saturday, their gameday, rivals that of any other high school sport. The LHS drumline was very helpful in teaching me the ways of marching band and expressing their dedication towards perfection, while not laughing in the process.
My hat goes off to our local marching band members. The next time you get up to grab some peanuts and a soda at half time, sit back down and marvel at the rhythm put together by the marching band, you just might be impressed as I was.
Copyright 2018 The Lawrence Journal-World. All rights reserved. This material may not be published, broadcast, rewritten or redistributed. We strive to uphold our values for every story published.