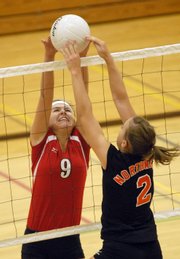 The person for whom the tournament is named had just one thing on her mind every time she led the Lawrence High volleyball team onto the floor during her highly successful coaching career.
Joan Wells always emphasized winning.
Current LHS coach Stephanie Magnuson played for Wells and was part of a state-title team that finished 44-0 in 1995 and played the entire season without losing a game, let alone a match.
With that in mind, it should come as no surprise that even though Magnuson's Lions finished in the Silver Bracket on Saturday instead of the Bronze Bracket like they did a year ago, no one associated with the LHS program was satisfied.
"Wells used to always say that one of the keys to winning state was peaking at the right time," said Magnuson, moments after her squad finished 1-3 and tied for seventh at the Joan Wells Invitational at LHS. "We were within five points of every team in every game all day. We're getting there. We just haven't put it all together yet."
In an attempt to bring her team closer to that point, Magnuson called on her former teammates to help. Friday night, five of the six seniors on that 1995 team - Magnuson, Jaunelle Hamilton, Anne Murray, Katy Kampschroeder and Kelly Miller - returned to Lawrence to speak at the Lions' team dinner.
They talked about winning, hard work and what it took to be one of the most successful programs in school history.
The current LHS lineup got the message.
"They were very receptive to (the 1995 team), more than I expected them to be," Magnuson said. "They were very interested in what we did when we played here, what it took to win and how we did it."
The reunion may not have led to more victories Saturday, but it might down the road.
"That was really cool for them to come to our dinner and talk to us," sophomore Lillian Schoenwise said. "It was really inspiring. I don't think I realized how big of a deal (what they accomplished) was."
Mary Coldsnow said the early exposure to the LHS tradition would help throughout the rest of the season and the rest of her career.
"It was really cool being a sophomore and being able to experience all of that," Coldsnow said. "It showed great character by coach Magnuson."
In pool play, LHS fell to Shawnee Heights (25-21, 25-22) and Maize (25-19, 25-23) in a couple of hard-fought matches that could have gone either way. In the final pool-play match, Magnuson challenged her team to step up.
"Coach just told us that we had to beat Dodge City if we wanted to get into the Silver Bracket," senior Tayler Tolefree said of the match the Lions won, 25-21, 25-20. "So it was nice to see that, when it counted, we could rise to the challenge and win."
In the first round of the Silver Bracket, LHS took Game 1 from Shawnee Mission Northwest, 29-27, but then lost the next two despite owning eight-point leads in each game. LHS lost both games to SMNW, 25-20.
"The intensity went down in those games, and we couldn't get it back," Coldsnow said. "When you have the lead, you have to keep the lead."
Lawrence High's junior varsity squad also played in the tourney, filling in for Bentonville, Ark., which had to withdraw at the last minute.
Although the Lions' JV did not win a game, Magnuson said she was proud of how the team performed without much warning, and could not help but notice that, like the varsity team did Friday night, the JV squad also learned a valuable lesson for the future.
"They represented us very well," Magnuson said. "The JV definitely held their own. This experience is only going to make them better."
Copyright 2018 The Lawrence Journal-World. All rights reserved. This material may not be published, broadcast, rewritten or redistributed. We strive to uphold our values for every story published.