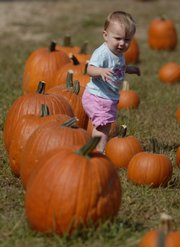 Saturday was a beautiful fall day. The sun was shining, breeze blowing, leaves changing colors, and the pumpkins - well, they were flying.
Actually, they were being chucked into a pond at Lawrence Landscape, one of the 15 farm stops for people on the fourth annual Kaw Valley Farm Tour, which continues today.
"It's hilarious," said Pamela Brown, of Topeka.
She brought a carload of children, including her two children, to the Lawrence area to expose them to "farm life," she said. Lawrence Landscape was their first stop.
"It's great so far," said Brown, who works at Jayhawk Area Agency on Aging. "We're going to hit as many farms as we can today and then come back tomorrow and finish up the tour."
Activities for children were available at many of the farms. At Lawrence Landscape, Brown's son, Christian Brown, 9, played with a remote-controlled boat in the pond and stepped back whenever Frank Male, co-owner of the business and employee Leonard Bremenkamp loaded pumpkins into a wooden catapult, much to his delight.
"It was cool," he said. "I can't believe they shot it that far."
Meanwhile, other children painted pumpkins while adults meandered through rows of various trees.
Lawrence Landscape offers about 20 varieties of locally grown tress such as ash, black hill spruce, autumn fantasy maples, autumn purple ash, cedars and oaks.
Brandon Nelson of Topeka selected a few autumn fantasy maples to plant at his new home with his wife, Allison, and their two daughters.
"We love the bright colors," Brandon said. "Now we can see what they are like."
Being surrounded by the fall foliage while at work is a treat for Male, he said.
"It's pretty cool just because it's so intense," Male said. "There's so many trees packed in one little area, and they are all changing at different times. Certain varieties are all lined up or in certain bins. It's almost an overload. It's really intense."
Male said he enjoyed being able to spend more time with the public because of the Farm Tour and educating people about their trees and landscaping.
"Generally we're working out here during the week, and so we don't have time to visit with the public as much as we'd like," he said.
More pumpkins will be chucked and painted at Lawrence Landscape, 1185 N. 1250 Road, today. All of the farms will be open from 10 a.m. to 6 p.m. Tickets can be purchased at the farms.
For a full schedule of the farm tour, visit kawvalleyfarmtour.org.
Copyright 2018 The Lawrence Journal-World. All rights reserved. This material may not be published, broadcast, rewritten or redistributed. We strive to uphold our values for every story published.