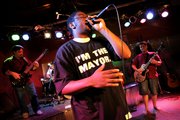 Salina — They may preach the same message, but the music coming from Revolution Church and Crossroads Church are for different kinds of worshippers.
While both churches coexist in the same building at 1125 W. South, their paths don't cross that often: Revolution has its services at the east end of the building on Saturday night and the Crossroads flock gathers at the west side on Sunday morning.
But both the Crossroads Band and the Revolution Band rehearse at the same time on Thursday evenings, and it doesn't take long to realize how their songs reflect the makeup of their congregations.
Classic vs. modern
Crossroads, headed by pastor/guitarist Ron Bowell and his son Tony, has a 1960s to 1980s Christian pop rock sound to appeal to a congregation made up mostly of baby boomers and their Generation X children.
"There's a classic rock feel to our music," said Tony Bowell, who plays guitar and sings lead vocals. "It's a style of music our congregation has been listening to most of their lives. We're just putting God's truth in a format they can easily absorb."
Revolution, in contrast, plays modern rock of the new millennium fused with hip-hop and rap for its primary congregation of 18- to 35-year-olds.
"We don't want people to just sit and listen and then go home," said Jeff Piepho, pastor of Revolution Church and guitarist for the Revolution Band. "We want them to experience the fullness of the music, to better know who God is."
While some Salina churches prefer to stick with traditional hymns performed by ensembles, choirs and organs, many have introduced more contemporary services that mixes Christian themes with rock, pop, hip-hop and rap, folk, rhythm and blues and soul.
"I grew up with rock music and played in numerous rock bands," said Ron Bowell, 61. "I had to move away from that rock lifestyle, but now I can fulfill both my passions. I play the same type of music, but I'm honoring God at the same time."
'Different kind of church'
Ron Bowell said there is nothing wrong with traditional hymns, "but when we started this church 10 years ago, we knew our format was going to be contemporary. We have a different generation, looking for a different kind of church than they grew up in."
The Crossroads Band usually has eight or nine players on a given Sunday morning that includes guitarists, a drummer, keyboardist, bass player, two backup vocalists and a conga player.
The band plays a mix of cover tunes by Christian musicians like Chris Tomlin and Matt Redman, with originals mostly written by Tony Bowell.
"This format just fits well for us," Tony Bowell said. "There's so many stories in this church of people being redeemed by God. It makes sense that God can redeem through music, too. We play the music we like for the God we love."
The Revolution Band, in contrast, plays loud music on a stage that mixes concert lighting with special effects and a smoke machine.
"It's almost more of a concert here than a church," Piepho said. "People who come in here think they've walked into a club. But we don't serve drinks. We have a coffee bar."
Salinan James Curtis, aka Cash Hollistah, writes and performs original hip-hop flavored songs for the band, which also includes keyboards, guitars and drums.
"We still take time to do teaching, but our teachings are a lot like our music - more dynamic and energetic than what some other churches have," Piepho said.
Renewing excitement
Therese Davis, youth director at Church of the Cross, helped five teenagers at the church form a youth praise band. Although the band hasn't yet come up with a name, a future performance in front of the congregation has renewed their excitement about church, she said.
"Whatever their passions are, that's what you use to bring them closer to God," she said. "You reach out to them where they're at, and music is huge to them."
Jacob Lindenberger, 15, is excited to be playing drums for the yet-unnamed band. A freshman at Salina South High School, Jacob said he likes to play Christian rock in church.
"There are lot of people my age with problems, and I want to see if we can point them in the right direction with music," he said. "God can take it from there."
Copyright 2018 The Associated Press. All rights reserved. This material may not be published, broadcast, rewritten or redistributed. We strive to uphold our values for every story published.