Photo Gallery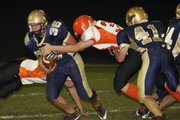 Veritas football vs. St. John's Military
Neal Daniels wasn't so sure he wanted to play eight-man football.
"At first I thought I wanted 11-man," Daniels said, "but as it turned out, I couldn't ask for anything better."
Daniels, a 6-foot, 185-pound senior, rushed for 147 yards and four TDs as Veritas Christian run-ruled Salina St. John's Military, 62-14, on Friday night at Veritas Field.
Daniels, who lives in Ottawa, attended Olathe Christian last year and played basketball, but he longed to get onto the gridiron.
"I'm home-schooled, and I love football," Daniels said. "I was put in touch with coach (Doug) Bennett, and I checked out Veritas."
About that time, Olathe Christian decided to resurrect its football program after a hiatus of a couple of years.
"I could have stayed and played with guys I knew," Daniels said, "but I felt Lawrence was the place for me."
So every afternoon, following a home-school session by his folks, Daniels drives from Ottawa to Lawrence to practice with the Eagles. Mostly, he has been used as a blocker for tailback Jeremiah Johnson on offense.
"He's a hitter," Bennett said. "He makes great lead blocks."
However, after the Eagles had bolted to a 44-6 halftime lead with Johnson rushing for 149 yards and two touchdowns, Bennett opted to bench Johnson - he had only two second-half carries - and run Daniels out of the shotgun.
"That's a formation we've had all year," Bennett said, "but we hadn't executed it very well."
The Eagles executed it very nicely this time, with Daniels gaining 100 yards in seven carries. He also had a 75-yard touchdown run called back by a holding penalty.
Johnson and Daniels weren't the whole show. Hogan Randall rushed for 53 yards and a TD, and Ethan Scott added 47 more yards and a score.
Veritas amassed 421 yards on the ground against the winless Muleskinners (0-5). The game was halted with 5:47 remaining by the mercy rule.
Friday's win was the Eagles' third blowout of the season. They've averaged 56.7 points a game in the three wins, but it's no secret they haven't faced anything resembling a juggernaut.
"Two of the next three games will be our hardest," said Johnson, who finished with 159 rushing yards and three TDs.
Veritas will travel to meet defending Kansas Christian Athletic Conference champion Topeka Cair Paravel next Friday, then tangle with perennial KCAC power St. Mary's Academy in three weeks.
"I'm very anxious to see how we do next Friday night," Bennett said. "That'll be a real challenge."
Copyright 2018 The Lawrence Journal-World. All rights reserved. This material may not be published, broadcast, rewritten or redistributed. We strive to uphold our values for every story published.