Audio Clips
2008 KU-ISU football
Photo Gallery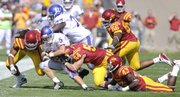 KU vs. ISU
-->
-->
-->
Ames, Iowa — Be sure to answer the new readers poll on the left side of your screens. Also, stay tuned later tonight for more postgame, including the Keegan Ratings, Going Deep, audio interviews and more.
FINAL: Kansas 35, Iowa State 33
Todd Reesing threw for 319 yards and three touchdowns, Kerry Meier caught seven passes for 125 yards and two scores, and No. 16 Kansas held off Iowa State, 35-33, on Saturday in Ames, Iowa.
Jake Sharp also added 186 yards of offense for the Jayhawks, who improved to 4-1 on the season.
Kansas fell behnd early and actually trailed, 20-0, at halftime. Coach Mark Mangino said at the time of being down, lashing out as his players wasn't the thing to do.
"I called them all together as the staffs were making adjustments and I just told them, I said, 'Listen. We've played very poorly. We can't play any worse,'" Mangino said. "Let's face it, we played very poor football in the first half, but we can win this game. And we will win this game if you keep your poise and stay calm."
Notes: Reesing became the second-leading passer in Kansas history with 5,414 career passing yards. Former KU quarterback Frank Seuer holds the record with 6,410 yards.
The come-from-behind victory tied the third-biggest comeback in Kansas history.
Kansas receiver Kerry Meier collected his third straight 100-yard receiving game.
Let's take a quick glance at how my predictions look now from before the game.
The first one was that KU would cover the 12.5-point spread. Missed that one, but how many people would have predicted Iowa State leading, 20-0, at halftime? The KU offense dominated that second half.
Secondly, I predicted Todd Reesing would pass for 350 or more yards. Missed that one by 30 yards. Reesing only had 59 yards in the first half, which meant he torched the Cyclones for 260 yards and three touchdowns in the second half alone. The first half obviously killed my prediction.
Third, I said despite ISU coach Gene Chizik not naming a full-time starter, the Jayhawks should prepare for Austen Arnaud, not Phillip Bates. At least this one was on point. Arnaud took virtually every snap, while Bates didn't attempt a pass. Consider Arnaud the Cyclones full-time quarterback after his performance (27-45, 268 yards, 3 TD's, INT).
1:04 left in fourth quarter, KU leads 35-33
Austen Arnaud had his receiver, R.J. Sumrall, open on the 4th-and-10, but threw too far. Sumrall got a hand on it, but that's it. KU ran out the clock to end the game.
Iowa State has had two dropped passes and one tipped ball on its first three plays after recovering the onside. The Cyclones took a timeout before their upcoming 4th-and-10 from their own 41-yardline.
Play stands. ISU ball with 1:13 remaining, down 35-33.
Iowa State has successfully recovered an onside kick with 1:13 remaining. It's currently being challenged. The Cyclones would have the ball on their own 41-yard line if the play is upheld.
1:15 left in fourth quarter, KU leads 35-33
The Cyclones just won't go away. And the KU secondary is certainly making the game interesting. Austen Arnaud connected on a 2-yard pass to Marquis Hamilton, the Cyclones kicked the extra point and trail, 35-33. Get your hands team ready if you're KU. Onside likely coming.
3:39 in fourth quarter, KU leads 35-26
The Jayhawks have sent some of the Cyclones fans to the exits. Todd Reesing hit Kerry Meier for a 21-yard touchdown pass to put KU ahead, 35-26. Reesing certainly responded on the drive. For the game, Reesing has 320 yards and three touchdowns. He also just became the second-leading passer in KU history. Can you believe he only had 59 yards passing in the first half?
How huge has Jake Sharp been for Kansas in the second half? For the game, Sharp has 67 yards rushing, 107 yards receiving and two total scores.
7:33 in fourth quarter, KU leads 28-26
Iowa State cut the lead to 28-26 on a 22-yard pass from Austen Arnaud to R.J. Sumrall, who beat Kendrick Harper for the touchdown. Iowa State missed the two-point conversion, so KU still leads by two. How will Reesing respond? He's been methodically torching ISU in the second half. Will it continue on the next drive?
9:23 in fourth quarter, KU leads 28-20
Austen Arnaud had been playing well...until he threw a pass directly to KU's Maxwell Onyegbule, who took the ball back to the ISU 6-yard line. Jake Sharp did the rest, capitalizing on a 2-yard TD run to give the Jayhawks a 28-20 lead. Knockout punch? Maybe.
11:46 in fourth quarter, KU leads 21-20
After a 51-yard strike from Todd Reesing to Dexton Fields, KU seemed to be set up perfectly in the red zone. However, on a quarterback option, Reesing fumbled the ball to Iowa State the ISU 11-yard line. A Kansas touchdown would have really put ISU on its heels. The Cyclones are still deep in their own territory, but not exactly what KU fans would have liked to see there.
End of third quarter: Kansas 21, Iowa State 20
Here's one way to get back in the game quickly on the road: Silence the crowd and outscore the opponent, 21-0, in the third quarter. Reesing suddenly has time to throw in the backfield. It's amazing what offensive line protection can do: An example? Reesing had 155 yards passing in the third quarter alone. Defensively, the Jayhawks are also putting pressure on Austen Arnaud.
1:46 in third quarter, KU leads, 21-20
Talk about a gutsy call from KU coach Mark Mangino, who went for a fourth down on the second time in the same drive. It paid off twice, as Todd Reesing eluded the ISU pass rush and found Kerry Meier in the end zone. The play came on a 4th-and-6 from the ISU 23-yard line.
2:55 left in third quarter, KU trails 20-14
Huge 4th-and-3 conversion from Todd Reesing to Dexton Fields for a first down on the ISU 27-yard line.
Completely different KU team in the second half so far. There's been a pass rush on Austen Arnaud, as evidenced by Jake Laptad's sack. The defense looks considerably better.
One pivotal play to keep in mind, if this comeback continues: Joe Mortensen's massive hit on Austen Arnaud on a 3rd-and-1 play for the Cyclones. It forced a punt and the Jayhawks got the ball again.
8:14 left in third quarter, Kansas trails 20-14
Comeback alert: Kansas trails, 20-14, after Angus Quigley took a 1-yard handoff and bulldozed his way into the end zone from a shotgun draw play. The Jayhawks put together their most sustained drive of the afternoon, a seven-play, 70-yard effort. After looking rather awful in the first half, the Jayhawks are down one score and have plenty of time on the clock.
Be sure to cast your vote on the new readers poll on the left-hand side. Possible comeback?
12:20 left in the third quarter, KU trails, 20-7
At last, KU is on the board. Todd Reesing faked a handoff to Angus Quigley and found Jake Sharp wide open along the left sideline. Sharp used his blazing speed to outrun the Iowa State defense, which clearly didn't see Sharp get open on the 67-yard touchdown pass. It sounds odd from how poorly KU has played, but it's only 20-7 and a two-possession game. A couple more stops, and who knows?
HALFTIME LEADERS
Kansas
Passing
Todd Reesing 8-14, 59 yards, INT
Rushing
Angus Quigley 2 carries, 10 yards; Jake Sharp 1 carry, 9 yards.
Receiving
Kerry Meier 3 catches, 38 yards; Dezmon Briscoe 2 catches, 22 yards; Angus Quigley 2 catches, 2 yards.
Iowa State
Passing
Austen Arnaud 15-19, 126 yards, TD.
Rushing
Austen Arnaud 9 carries, 29 yards; Alexander Robinson 6 carries 24 yards, TD.
Receiving
R.J. Sumrall 5 catches, 38 yards; Darius Darks 4 catches, 58 yards; Houston Jones 2 catches, 16 yards.
Halftime, KU trails 20-0
Not exactly sure anyone predicted this: 20-0 Iowa State at the half. A plethora of problems for Kansas: Three turnovers (two fumbles lost and an interception), a lack of protection for KU quarterback Todd Reesing, a lack of a rushing game and poor pass defense. Can't really think of anything positive for KU at this point. I don't care if you put Peyton Manning (I would have said Tom Brady any other season) behind this line right now. It'd be tough to move the ball. With the Cyclones in the backfield all day, it's been tough to pass or run.
6:31 left in the second quarter, KU trails 20-0
Two biggest areas of concern right now for KU: Rushing attack and pass defense. Austen Arnaud looks like a superstar and the bulk of KU's 25 yards rushing have come when Todd Reesing is scrambling from the pocket and improvising on the run.
It's also worth noting that Jeff Spikes has been replaced by freshman Ben Leuken at right tackle for the past two possessions.
8:53 left in second quarter, KU trails 20-0
Grant Mahoney made his second field goal, his latest a 43-yard boot to give ISU a 20-0 lead. Iowa State took 3:21 off the clock and took seven plays, which went for 24 yards.
Austen Arnaud is picking apart the KU defense for 116 yards on 13-of-16 passing and a touchdown. KU has only rushed for one yard.
11:53 left in second quarter, KU trails 17-0
More bad news for the Jayhawks. Todd Reesing just had a pass intercepted by Leonard Johnson on the first play of the KU drive. The Cyclones just hit a 26-yard pass play from Austen Arnaud to Darius Darks to put ISU on the KU 29-yard line.
12:25 left in second quarter, KU trails, 17-0
Iowa State kicker Grant Mahoney put the Cyclones ahead, 17-0, on a 31-yard field goal. The Cyclones took eight plays and went 28 yards on the possession.
End of first quarter, KU trails 14-0
Not good if you're KU, which didn't gain a first down until the 1:18 mark of the first quarter. Fittingly, Jocques Crawford fumbled the ball to Iowa State on the very next play.
1:09 left in first quarter, KU trails 14-0
Small sample of how this game has gone for Kansas: After gaining its first yardage of the game on a pretty 23-yard pass play from Todd Reesing to Kerry Meier, Jocques Crawford fumbled on the next possession on KU's 42-yard line. ISU recovered. The referees reviewed the play and upheld the call. ISU ball on the KU 42-yardline. Another massive blow to the Jayhawks.
3:56 left in first quarter, KU trails 14-0
OK, trouble has officially set in. Kansas trails, 14-0, after an 8-yard touchdown pass from Austen Arnaud to Marquis Hamilton, who beat Chris Harris on a quick out route near the left corner of the end zone.
Here's how the first two possessions for each team has gone: KU has gone three-and-out twice. ISU's first possession took 2:05 on five plays and went 55 yards for the touchdown. The Cyclones' second possession took 4:33 off the clock on nine plays for 39 yards and the touchdown to Hamilton. It included aggressive play-calling by ISU coach Gene Chizik, including going for a 4th-and-1 from the KU 6-yard line and converting.
Furthermore, the shifting of offensive linemen hasn't helped. Todd Reesing has only completed one pass and the ISU defensive linemen are constantly breaking through the line of scrimmage and entering the backfield. KU just went three-and-out for the third consecutive time.
4:54 left in first quarter, KU trails 7-0
The Cyclones are obviously calling an aggressive game. Case in point with 5:12 remaining in the first quarter and a 4th-and-1 situation for ISU on the KU 6-yard line. ISU running back Alexander Robinson took the handoff on the right side and gained the first down.
10:45 left in first quarter, KU trails 7-0
Possibly the worst start KU could have hoped for. The Jayhawks went three-and-out on their first possession. Iowa State responds by going five plays for 55 yards, capped with a 16-yard touchdown run by Alexander Robinson. KU trails, 7-0, with 10:45 remaining in the first quarter.
11:45 a.m.
Jeff Spikes and Jeremiah Hatch have switched sides on the offensive line for Kansas. Hatch moved from right tackle to left tackle. The left tackle position is considered more of pass protection position for right-handed quarterback's blind side. Spikes was moved from left tackle to right tackle.
Also, Dexton Fields began the game in the Jayhawks' starting lineup. Kansas went three-and-out on its first possession. Senior linebacker Mike Rivera will start the game on the bench again.
11:40 a.m.
Kansas will begin the game with the ball on its own 20 after a touchback.
11:27 a.m.
Still eight minutes until kickoff. I see a bit of blue here and there scattered throughout Jack Trice Stadium. Extremely rough estimate, but it appears about 200-250 Jahawk fans are filling the KU section.
10:55 a.m.
Be sure to give your two cents in the poll just posted to your left. Also, senior cornerback Kendrick Harper, who suffered a blow to the head Sept. 6 against Louisiana Tech, looks ready go to. When the Jayhawks ran onto the field to a chorus of boos from the Iowa State student section, Harper was arguably the most pumped up KU player, emphatically high-fiving everyone and bumping helmets with others.
10:40 a.m.
All systems go for for senior wide receiver Dexton Fields, who was participating with the punt returners in pre-game warmups. Didn't get a chance to see him maneuver much, but he's in uniform and should play today as expected for Kansas.
Kansas vs. Iowa State pregame warm-up
Before today's 11:30 a.m. kickoff between the Jayhawks and Cyclones, let's discuss some of the game's most riveting storylines. I'll proceed with presenting these storylines in true/false format. Feel free to add your own answers in the comments section below.
True or false: Kansas will cover the -12.5 spread.
True. Iowa State's two victories came against rather unimpressive South Dakota State and Kent State squads. The Cyclones might lead the Big 12 in turnovers created with 13, but the stat is slightly inflated because of the six turnovers they created in week one against South Dakota State. Iowa State's backup quarterback, Phillip Bates, leads the team in rushing with 166 yards. Furthermore, Iowa State ranks 11th of 12 in the conference in passing offense, so look for Kansas to take advantage of Iowa State's youth and inexperience on offense. Plus, the Jayhawks should enter Jack Trice Stadium as healthy as they've been all year with the return of seniors Dexton Fields and Kendrick Harper. Todd Reesing should have another big game. Even if Iowa State keeps it close, the Cyclones don't have enough big-play talent to pull away. Kansas 31, Iowa State 17.
True or false: Reesing will pass for at least 350 yards.
True. Iowa State has only surrendered 176 passing yards per game, but the Cyclones haven't seen an offense that features as many deadly weapons as the Jayhawks: Fields, Dezmon Briscoe, Kerry Meier, Daymond Patterson, Johnathan Wilson. Take your pick. The Jayhawks will have to keep the Cyclones honest on the ground with starter Angus Quigley, and recently demoted backups Jake Sharp and Jocques Crawford. KU's struggles on the ground are well-documented, but Iowa State has given up an average of 188.5 rushing yards per game.
True or false: Despite the fact that ISU coach Gene Chizik still won't name a full-time quarterback, the Jayhawks should prepare for Austen Arnaud.
True. Arnaud is the more advanced pocket passer and Bates is the better scrambler. Both take snaps randomly, which makes it difficult for the Cyclones to get in a constant offensive rhythm for the duration of their games. Arnaud led a 98-yard drive two weeks ago against UNLV to extend the game into overtime, and played considerably more than Bates during ISU's last game two weeks ago.
If KU wins, it will be because...
the Jayhawks find a way to control the clock early with the ground game, which would make the home crowd a non-factor and open up the passing game for Reesing. With the Cyclones' lack of a running game, the Jayhawks also could use a strong day from their revamped secondary, which will be tested.
If ISU wins, it will be because...
it continues to add to its conference-leading 13 turnovers. Iowa State will need to create turnovers and special teams gems (the Cyclones lead the conference with 26.1 yards per kick return), because they can't mach the Jayhawks experience or talent.
Copyright 2018 The Lawrence Journal-World. All rights reserved. This material may not be published, broadcast, rewritten or redistributed. We strive to uphold our values for every story published.