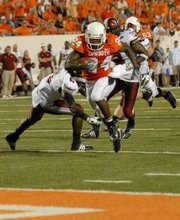 Stillwater, Okla. — Think spread offense, and what comes to mind?
"I would say that the pass is probably more prominent," Oklahoma State coach Mike Gundy said Monday of the current vogue offense in college football.
But that's not the case at Oklahoma State, where the spread has a different look thanks to a deep stable of running backs, including two who rank 1-2 in the Big 12 Conference in rushing through four games.
The Cowboys have used their run-based spread to great effectiveness, averaging 562.5 yards of offense per game en route to a 4-0 start. Oklahoma State, which will host Texas A&M; (2-2) in the conference opener for both teams today, entered the Associated Press rankings this week at No. 21, the first time since November 2004 the Cowboys have appeared in the poll.
Mix it up
"We mix it up a little bit," said Kendall Hunter, the Cowboys' quiet sophomore starting tailback.
Hunter has a league-leading 618 yards, a 154.5-yards-per-game clip that ranks him third in the Football Bowl Subdivision, and averages 7.7 yards per carry. His eight touchdowns ranks him second in the Big 12 in that statistical category.
Keith Toston, a junior who had issues with fumbling and suffered a major knee injury late last season, averages 9 yards per carry and has rushed for 368 yards, a 92-yards-per-game average. He's also scored five touchdowns.
No. 3 talented, too
Lest Hunter and Toston become complacent, the Cowboys' No. 3 back, Beau Johnson, ranks 11th in the Big 12 with 252 yards rushing.
Considering those statistics, it's no surprise the Cowboys lead the FBS in rushing offense at 340.25 yards per game and rank third nationally in scoring offense (51.75 points) and fourth in total offense.
"Right now we have the luxury that we're not concerned when we slide another guy in" at running back, Gundy said. "I'm not sure that it's always been that way at any position."
The Cowboys' emphasis on the run was no more evident than on their first third-quarter series last Saturday in a 55-24 win over Troy. Pinned at their own 1 after a punt, Oklahoma State used 11 straight running plays to drive the length of the field for a touchdown. Gundy said that wasn't by design, but didn't argue that it proved effective.
"Going back and thinking of it now, I would think the guys up front, the linemen who put in a lot of time and effort and try to be more physical than other teams, I would think they would feel pretty good about themselves after doing that," Gundy said.
Rather than complain about playing time, the running backs say they feed off each other and enjoy the fact that a smaller individual work load translates into fresher legs when they are in the game.
Mouthpieces ready
"If Kendall has a long run and he looks up a certain way, then I know I need to go on," Toston said. "We're always right there watching with our mouthpiece in, ready to go on the field. We have good communication. We go through practice like that as well."
They're also smart enough to give kudos to the Cowboys' veteran offensive line.
Copyright 2018 The Associated Press. All rights reserved. This material may not be published, broadcast, rewritten or redistributed. We strive to uphold our values for every story published.