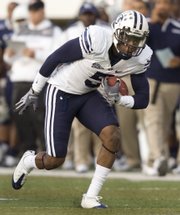 Logan, Utah — While No. 8 BYU's string of shutouts is over, the nation's longest winning streak continues.
The Cougars remained unbeaten with a 34-14 victory over Utah State on Friday night, extending their winning streak to 15 in a game that got closer than BYU has been used to.
Utah State became the first team to score on BYU in nearly three full games and the Aggies frustrated the Cougars into repeated mistakes and penalties.
"We played well at times, but there were some glimpses of just an average offense," said Austin Collie, who caught two touchdown passes from Max Hall. "It was a battle out there for the last three quarters."
The Cougars (5-0) converted three turnovers into 17 points while pulling ahead 24-0 in the first quarter, then held on for their ninth straight victory over the Aggies (1-4) despite some sloppy moments.
Hall threw for 303 yards and two touchdowns, but was intercepted twice and committed one of several personal fouls by the Cougars, who had 12 penalties for 123 yards.
"I think it started getting a little chippy there at the end. The score was kind of out of hand, but they felt like they could still push us a little bit. Then we pushed back," said BYU linebacker David Nixon, who had an interception. "We can't give up those stupid penalties like that."
Utah State scored twice in the fourth quarter, but the Aggies were down 34-0 at the end of the third quarter. That didn't discourage Utah State fans from chanting "over-rated!" and celebrating every mistake the Cougars made.
The Aggies pushed the Cougars harder than anyone has in a while.
"If we come out in the first half like we did in the second half, we would have had an opportunity to win this game," said Robert Turbin, who scored the Aggies' first touchdown on a 40-yard run in the fourth quarter. "I don't want to say we came out tentative, but we came out in a way that we were trying to feel our way through."
Hall was sacked for the first time this season when the Aggies brought him down with 4:02 left in the game. The Cougars also had a field goal blocked and got a break when what had appeared to be a fumble was overturned by the officials.
Although the outcome was never in question, Utah State fans stayed until the very end to get every last taunt in at BYU, which hadn't visited Logan since 2002.
"It was a battle," Hall said. "They did some things on defense to confuse us."
Turbin's touchdown with 13:47 to play ended the shutout streak that spanned two games and more than three full quarters. It started when BYU blocked an extra point attempt by Washington to preserve a 28-27 victory on Sept. 6, followed by shutouts of UCLA (59-0) and Wyoming (44-0).
Copyright 2018 The Associated Press. All rights reserved. This material may not be published, broadcast, rewritten or redistributed. We strive to uphold our values for every story published.