On the street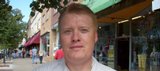 Not at all. I was hoping they would fight that thing until the end and shut it down completely. I don't feel that taxpayers should be bailing out the intensely greedy people who got us there in the first place.
Topeka — Lawrence's House representatives were split on the issue again.
U.S. Rep. Nancy Boyda, D-Topeka, whose district includes west Lawrence, voted against the bailout proposal that failed Monday and against the one that was approved Friday by the full House. U.S. Rep. Dennis Moore, D-Lenexa, whose district includes east Lawrence, voted for both proposals.
"I am just as upset as many of my constituents that our country is faced with this economic crisis," Moore said. "But we were left with very few choices and little time to preserve our economic stability."
He said that he didn't like the unrelated tax policy issues that the Senate added to the bill earlier this week, but he noted that the larger issue was "about protecting our families, seniors and small businesses from the devastating effects of doing nothing."
But Boyda said she believed there were no real improvements in the second versions.
She said the whole way the Bush administration handled the process damaged the final product.
"President Bush had basically pulled a fire alarm in a crowded theater, so there wasn't a lot of clear thinking going on," she said. She said Congress should have worked harder to tighten down protections for taxpayers and assistance for homebuyers.
But having voted against the measure, she said she would pray that it works.
She said one of the positive aspects of the bill is that it will raise the amount of federal insurance on bank deposits from $100,000 to $250,000 per customer.
Kansas' other two House members - Jerry Moran, R-Hays, and Todd Tiahrt, R-Goddard - also voted against the bailout again. Moran said in a letter to his constituents that "our economic challenges will not be appropriately addressed by supporting a bad plan just because of an absence of a better plan."
Copyright 2018 The Lawrence Journal-World. All rights reserved. This material may not be published, broadcast, rewritten or redistributed. We strive to uphold our values for every story published.