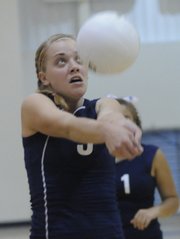 There's a sports rivalry brewing between two of Lawrence's high schools.
And it isn't just the usual Class 6A suspects anymore.
Thursday night, the small schools took center court in a matchup between Seabury Academy and Veritas Christian's volleyball teams.
In the end, Veritas claimed the intra-city title in straight sets among the budding foes, 25-11, 25-21. The Eagles won their other match against Christ Prep Academy, 26-24, 25-16, going 2-0 at the Seahawks' home triangular and spoiling Seabury's senior night in the process.
"We're always looking forward to this game because it's always so much fun playing a school that's in Lawrence," Veritas sophomore Meaghan Holmes said. "With our team so psyched about it, it just really pushes us."
First-year Seabury coach Chrissy Leuty said she could tell the level of play rose because of the rivalry, which is just a few years old.
"I think they get a little bit more excited when they play Veritas than they do other schools," Leuty said of her Seabury squad. "What (Veritas coach) Kristen (Oberzan) has been able to do with that program in turning them around is pretty amazing, so it makes it really competitive."
Veritas raced out to an early 8-1 lead in set one against Seabury, thanks in large part to the serving of Kristen Bennett and the spiking of Holmes, a 6-foot-2 middle blocker. Holmes, who had 13 kills in the Eagles' opening match, contributed six more against the Seahawks.
Set two found both schools locked in a much more competitive battle that warranted rivalry hype. The set featured nine ties and six lead changes.
Seabury finished the night 0-2, also losing its first match, 25-23, 26-24 against Christ Prep.
Phipps, who played her last home match, said it was nice to finally be a part of a developing rivalry before leaving the Seabury program.
Phipps and teammate Arielle Spiridigliozzi - Seabury's only two seniors - received a warm ovation from fans in a ceremony before the night's final match.
Copyright 2018 The Lawrence Journal-World. All rights reserved. This material may not be published, broadcast, rewritten or redistributed. We strive to uphold our values for every story published.