Photo Gallery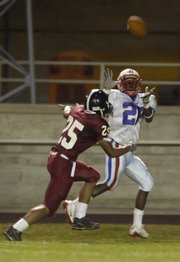 LHS football vs. Olathe North
Reality check?
The Lions started the season 2-0, but since have lost by an average score of 39-11. Here's a look at the last three games:
Sept. 19 vs. SM West: L 35-7
Sept. 26 at SM NW: L 41-18
Thursday vs. O-North: L 41-7
You won't hear Dirk Wedd talking about parity in the Sunflower League.
"There's a big gap between the upper echelon and the lower echelon," said Wedd, Lawrence High's football coach, "and we're not there."
Case in point: Olathe North's 41-7 thrashing of the Lions on Thursday night at Haskell Stadium.
Lawrence's third straight defeat was similar to the previous two - 35-7 to Shawnee Mission West and 41-18 to SM Northwest - in the sense that the Lions fell far behind, then scored against second defensive units.
"We're not a real athletic football team," Wedd said. "That's not being critical. That's just a fact. We're in a tough situation right now."
Olathe North, meanwhile, is loaded with athletes - slick and speedy studs like James Franklin and Bryan Shephard. Franklin ran for three touchdowns and Shephard scored twice, once on a pass and again on a 64-yard punt return.
Lawrence's special teams struggled. They lost a fumble on a kickoff, surrendered a 68-yard kickoff return to Franklin and two long punt returns by Shephard - the 64-yard TD scamper and an earlier 42-yarder that led to another TD.
On the positive side, Lawrence did a decent job of containing Franklin, a 5-foot-9, 175-pound junior who trampled SM East for 271 yards last week. Against the Lions, Franklin settled for 82 yards on 26 carries.
Unfortunately for the Lions, however, while concentrating on Franklin, O-North's wide receivers were wide open most of the time and quarterback David Blazevic played pitch-and-catch, completing 9-of-10 aerials for 174 yards and two TDs.
"We were trying like heck to stop the run," Wedd said, "and that put some kids in tough situations in our secondary."
Blazevic was a perfect 8-for-8 in the first half. He threw just twice in the second half, completing one. His lone incompletion was knocked down at the line by Lions' defensive end Jay Baker.
"Their passing surprised us a little bit," Wedd said, "but it takes a lot of effort on our part to stop the run because we're so small up front."
Lack of size on the offensive front prevented Lawrence from denting Olathe North's defense until late in the fourth quarter when the Lions went 44 yards after a short punt, and prevented the shutout on Clifton Sims' one-yard plunge with 2:20 remaining.
Lawrence mustered only 109 yards of offense and 44 of those yards came in the waning minutes against the Eagles' reserves.
The Lions (2-3) opened the season with victories over SM North (10-3) and SM East (24-7), two teams that time has shown to rank in the Sunflower League lower echelon.
Olathe North (4-1) is clearly in the upper echelon. The Eagles' only loss was a 14-13 squeaker to unbeaten Olathe East, a team that isn't on the Lions' schedule.
Lawrence will travel to Olathe South next week before beginning Class 6A district play against Olathe Northwest on Oct. 17.
¢ Notes: Lawrence wasn't whistled for a single penalty. :O-North averaged just 2.0 yards rushing on its 40 carries. A fourth of the Eagles' carries went for negative yardage. : After rushing for 92 yards against SM Northwest last week, Lawrence junior Tyrae Jenkins was held to 35 yards on 19 carries. :O-North's Kevin Young, who has announced he'll sign with Kansas University, caught one pass for 19 yards, but played mostly on defense.
Copyright 2018 The Lawrence Journal-World. All rights reserved. This material may not be published, broadcast, rewritten or redistributed. We strive to uphold our values for every story published.