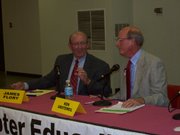 Third District Douglas County Commission candidates started their forum Thursday night talking about an old issue: The controversial South Lawrence Trafficway.
Republican Jim Flory said he would be a vocal supporter of the approved plan to complete the trafficway along the 32nd Street alignment through the Baker Wetlands.
"It's simply an excellent plan," said Flory, a former Douglas County district attorney and retired federal prosecutor.
He said the commission should unequivocally support the plan with a resolution because it would cost less than the proposed 42nd Street route and help restore and expand the wetlands.
Democrat Ken Grotewiel said the decision is over the commission's head at this point, especially with litigation likely.
But he did say a more southern route would have some merits.
"It helps with expansion of the county in terms of development south of Wakarusa River," said Grotewiel, a former state legislator from Wichita and a retired Kansas Water Office official.
The candidates are vying to replace Republican Jere McElhaney in the district that includes western Lawrence and most of western Douglas County. They debated the issues during a Voter Education Coalition forum at the Douglas County Fairgrounds.
Several times, Grotewiel stressed the importance of balancing growth in the county with the preservation of green space.
Both said offering tax abatements to attract some companies was occasionally necessary, but they said the county needed to rely more on marketing its quality of life for economic development.
Grotewiel said he would support a domestic partnership registry at the county level. Flory said he wouldn't advocate for one if elected because he called it a state-level issue. He would consider it if another commissioner brought it up.
Copyright 2018 The Lawrence Journal-World. All rights reserved. This material may not be published, broadcast, rewritten or redistributed. We strive to uphold our values for every story published.