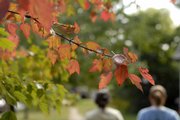 Douglas County has had the moisture this year to make conditions ripe for a beautiful fall.
Now we just need some colder nights to trigger the bold orange, purple, scarlet and yellow backdrops across trees in Lawrence neighborhoods and in the rural areas.
"I would say the moisture has been very helpful because it keeps the leaves in pretty good conditions," said Roger Boyd, Baker University's director of natural areas.
But most of them probably won't start to change until the middle of the month, he said, depending on the first freeze.
As of Friday, Lawrence had received 34.98 inches of precipitation for the year - ahead of the average 32.47 inches, according to the 6News weather office.
Some leaves on trees in the area have already started to turn yellow, including the ash and honey locust trees, said Jennifer Smith, horticulture agent for the Douglas County Extension Office.
The extra moisture should help produce more vivid colors on trees this fall, she said, because the leaves will generally remain on the trees longer.
"The longer they stay on, the more colors you'll see," Smith said.
Most people are probably waiting for the reddish colors of the larger maple leafs, which probably won't turn until the middle of the month, Boyd said. The timing will be important to a lot of people because of the annual Maple Leaf Festival Oct. 17 to Oct. 19 in Baldwin City.
Cooler temperatures and less sunlight bring on hormonal changes for trees as they stop producing chlorophyll. The process decreases the green pigment in leaves and causes other colors
Through the process, trees store up nutrients for winter.
Warmer temperatures early in the fall last year kept many leaves from changing colors until late into October.
Experts say it should be a little bit earlier this year. And they are confident that when the leaves come around, vivid colors will line the county's skyline.
"The maples you just can't miss," Smith said.
Copyright 2018 The Lawrence Journal-World. All rights reserved. This material may not be published, broadcast, rewritten or redistributed. We strive to uphold our values for every story published.