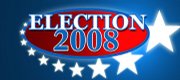 In-depth coverage of the candidates and the issues, all leading up to the Aug. 5 primary and the Nov. 4 general election.
-->
Toronto — Canada's top five political leaders will face off in an election debate today, but their stiffest competition may come from the U.S. vice presidential candidates.
Canadians are criticizing the decision by Canada's TV networks to schedule the country's sole English-language debate at 8 p.m. CDT, when Republican Alaska Gov. Sarah Palin goes head-to-head with Democrat Sen. Joe Biden in a highly anticipated confrontation.
"I'll be watching Palin and catching the highlights of the Canadian debate on the news," said Steve Weiner, a dentist.
Denis McGrath, a screenwriter, calls the decision by the Canadian networks unfortunate and "boneheaded."
"I'm definitely going to watch the Palin debate. There's a lot of Canadians that are going to watch," said McGrath, whose primary interest is seeing how Palin fares.
Canadians have traditionally shown keen interest in U.S. presidential elections but this year's race - with its historic dimensions of race and gender - has been even more closely watched.
Copyright 2018 The Lawrence Journal-World. All rights reserved. This material may not be published, broadcast, rewritten or redistributed. We strive to uphold our values for every story published.