Photo Gallery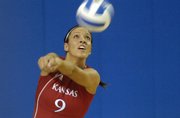 KU volleyball vs. K-State
The Kansas University volleyball team scratched and clawed its way closer to earning a victory against a ranked Big 12 opponent Wednesday night at Horejsi Center.
But getting closer didn't ease the pain of a third straight conference loss.
"This one hurts pretty bad," senior Natalie Uhart said after the Jayhawks' five-set loss to No. 17 Kansas State (25-22, 19-25, 18-25, 25-18, 15-9). "It's pretty disappointing."
It wasn't as much that the Jayhawks lost to their Sunflower State rivals that stung as it was the way they lost.
Last week, the Jayhawks lost four-set matches to No. 2 Nebraska and No. 3 Texas. In both losses, Kansas dropped the opening set.
Wednesday night, KU won the opening set, 25-22, despite trailing, 22-18, late in the set. KU's run of seven straight points to close the set was a sign that despite opening a little sluggish, the Jayhawks were prepared for a battle.
"We didn't start Set 1 one that well, but we sure did end it well," KU coach Ray Bechard said. "We kind of slugged it out for four sets, but in Game 5 they just played much cleaner than we did."
All of the momentum the Jayhawks gained from the first-set victory disappeared in Sets 2 and 3 and the Jayhawks found themselves facing a do-or-die situation entering Set 4. K-State senior Nataly Korobkova was too much in the middle sets as she bombed away for eight of her match-high 20 kills those sets. Korobkova picked up right where she left off in Set 4, recording kills on five of K-State's first six points, and the Wildcats built a 7-3 lead and looked to be on their way to a four-set victory.
But the Jayhawks (7-7 overall, 1-4 Big 12) responded. Junior Melissa Grieb served 10 straight points - including five aces - and KU turned the 7-3 deficit into a 14-7 lead.
"That's as long a serving stretch as I've seen in a long time," Bechard said. "That's all good, but you have to finish in Set 5."
KU freshmen Nicole Tate and Allison Mayfield played crucial roles in the Jayhawks' fourth-set win and combined with Uhart, Savannah Noyes and Karina Garlington to lead the Jayhawks to the brink of victory.
"I don't really think it matters what year you are," Tate said. "The thing that's most important is how we play together as a team."
The Jayhawks' next opportunity to do so comes Saturday at Texas Tech.
"I have a distraught team in there," Bechard said after the loss. "But there will be no emotional, physical, mental hangover from this because we will get better (today)."
Copyright 2018 The Lawrence Journal-World. All rights reserved. This material may not be published, broadcast, rewritten or redistributed. We strive to uphold our values for every story published.