Photo Gallery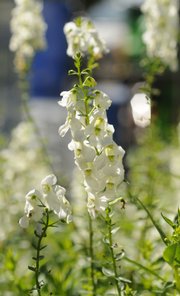 Downtown Delights
Lawrence is one of those rare gems. You probably know this already, and that is why you chose to live, work, earn an education, raise children or retire here. One of the quintessential assets that makes Lawrence a unique and coveted breed of town is our thriving, pedestrian-friendly, eccentric shopping experience.
Downtown Lawrence is as indomitable to our distinctive fingerprint as Kansas University. Lawrence simply would not be the treasure of Kansas without our thriving downtown restaurants, retail shops and overall destination to socialize or simply blend in with a delicious beverage and people-watch.
I've noticed that over the past few years the landscape of Lawrence's downtown is more colorful, robust and diversified than ever, and I'm not speaking of our overall eclectic mix of people. I'm talking about the flora.
The raised beds in our downtown are overflowing with chartreuse, purple, baby blue - practically every color of the rainbow. This spectacle of plants that are billowing over their rooted containers and blossoming before our eyes is a relatively new phenomenon to the layers of downtown eye candy. Yes, there have always been plants growing, but not to the amplified manner of the past few seasons - not to the glorious profusion of what we see today. What happened?
Crystal Miles, Lawrence Parks and Recreation horticulturist, says the city hired landscape architects Bartlett and West in 2006 to help design plantings for the raised planters downtown.
"Many of the shrubs and groundcover were originally planted in 1970 and were declining in planters with nutrient-deficient soils," Miles says. "The new renovations included specifically consistent coordinated areas for trees, shrubs, three seasons of flowers and new soil."
It shows, and just in time for luring out-of-towners to Lawrence for football games, festivals or a refreshing change of pace from the strip mall scene. A burgeoning retail area should look like it from the outside. With a healthy downtown green space, we contribute to a friendlier environment for pedestrians and shoppers by providing shade, separating downtown dwellers from the traffic, as well as outside diners from cars, softening the hardscapes, improving our air quality and enhancing the overall aesthetic of a jewel in our crown.
Some of the flora we are enjoying in planters now:
¢ Triangle planters - blackie ipomoea and trailing light blue calibrocha.
¢ Rose planters - red ribbon ground cover roses and sky blue petunias.
¢ Mid-block planters - royal velvet supertunia, citrus blend lantana, serena white angelonia, fire profusion zinnias and flamenco rumba cuphea.
¢ Corner planters - new look celosia, marguerite ipomoea and polka dot titan white vinca.
Just as the seasons change here in Lawrence, so shall the downtown flower beds.
"The core landscape (trees and shrubs) will remain the same, but seasonal color will be changed out four times a year to include upcoming fall mums, spring bulbs (also planted in the fall), pansies and summer flowers," Miles says. "Later this winter, staff will also take time to evaluate and consider new flower designs for 2009."
Miles says volunteers are welcome to help plant mums, bulbs or other flowers throughout the year.
A few years back, we all had headaches when our downtown streets were torn to shreds to repair water lines. That trying time has paid off. Now, the seasonal maintenance for caring for these impeccable beds of flora is around 40 hours a week for a 36-week growing period, which is far reduced from years past with the new watering equipment and resources available to city maintenance crew.
Yes, it has been a proud moment to meander the streets of downtown Lawrence this past growing season, and the best is still yet to come as with any garden the gardener will proclaim that his or her work is never done. In the future, we'll see such improvements as tree grates to accommodate downtown dining and increase pedestrian walking space. Our bright, proud and thriving flora beds, as well as these other changes, are how we greet visitors and reflect how we view ourselves.
Copyright 2018 The Lawrence Journal-World. All rights reserved. This material may not be published, broadcast, rewritten or redistributed. We strive to uphold our values for every story published.