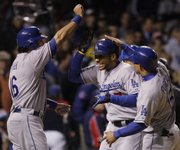 Chicago — Manny Ramirez and Joe Torre brought their winning postseason ways to the Los Angeles Dodgers - and Wrigley Field.
James Loney hit a go-ahead grand slam off a wild Ryan Dempster, Ramirez, and Russell Martin homered, and the new-look Dodgers beat the Chicago Cubs, 7-2, in their NL playoff opener Wednesday night.
"The atmosphere here was real quiet as I was going around the bases. So I think our fans were cheering back home," Loney said.
The Cubs entered the postseason with the best record in league, hoping for a fast start 100 years after their last World Series championship.
But Ramirez and Torre, winners of six World Series crowns in the AL, wound up on top in their first playoff game together. Ramirez's homer was his 25th in the postseason, extending his own record.
"I'm just being Manny," Manny said.
"That's it. I've been playing great everywhere, and I'm just happy that I'm here in L.A. It was a great move for me, just to go and show people that that other stuff that I left behind wasn't true, that I just want to come and get a new life and play the game ... and show people that I still can do this."
Few needed to be convinced, because after being traded from Boston, Ramirez sparked the Dodgers to the NL West title. And there he was Wednesday night, leading them again, even hustling hard to beat out an infield single in the third inning.
"We get a sense of what he's been doing all these years," Loney said.
Copyright 2018 The Associated Press. All rights reserved. This material may not be published, broadcast, rewritten or redistributed. We strive to uphold our values for every story published.