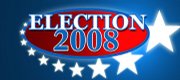 In-depth coverage of the candidates and the issues, all leading up to the Aug. 5 primary and the Nov. 4 general election.
Candidates for two seats on the Douglas County Commission will answer questions tonight at a public forum sponsored by the local Voter Education Coalition.
The forum is scheduled to begin at 7 p.m. in Building 21 of the Douglas County 4-H Fairgrounds with questions for the two District 3 candidates, Republican Jim Flory and Democrat Ken Grotewiel. Candidates in the District 2 race, Republican David Brown and Democrat Nancy Thellman, will answer questions beginning at 8 p.m.
Some questions will be prepared in advance by VEC, but questions also will be taken from the audience in both forums.
Organizers for the event said they knew they faced some stiff competition from tonight's televised debate between the two vice presidential candidates but reminded local voters of the impact local elected officials have on their daily lives.
"Our advice," said Diane Oakes, one of the VEC organizers, "is to set your VCR or DVR to tape the debate while you attend the County Commission forum and meet the folks that want to represent you."
Copyright 2018 The Lawrence Journal-World. All rights reserved. This material may not be published, broadcast, rewritten or redistributed. We strive to uphold our values for every story published.