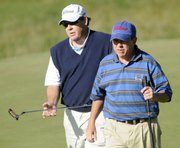 Chris Hutchens and Dane Ogden admitted their chances to win one of these Kansas Golf Association tournaments were dwindling with each passing year.
Hutchens is 45. Ogden is 49 and contemplating playing strictly in senior events. With their busy work schedules, the best friends manage to play in just one or two events a year now. And for the past 15 years, the top finish they could remember was a third-place result some years back.
So, the jubilation overflowed when they reached the Lawrence Country Club clubhouse early Wednesday evening to peek at the final leaderboard for the KGA Mid-Amateur Team Championship.
They had won their first tournament together. By five strokes.
Hutchens and Ogden fired a final-round 66 in the four-ball portion of the tournament, giving them a three-day total of 205 - five shots under par. They were the only pair to shoot under par for the tournament.
Hutchens, a Lawrence resident and member of LCC, received some good-natured ribbing at the clubhouse from fellow club members, all revolving around the same theme: "It's about time."
"We had the feeling that with this format, and the way we play golf, we thought eventually we'd get this," Hutchens said. "We didn't know it would be this long."
What are good buddies to do following a hard-fought first win?
Grab a beer, pat each other on the back and soak it all in.
"For me, I never thought I'd win one of these," Ogden said. "I've won maybe a couple club championships, but I've never won anything in golf. So, I'm just thrilled. I'm thrilled for Hutch."
Hutchens and Ogden actually trailed leaders Andy Emerson and Jay Hepler by three strokes heading into the final day. But after nine holes, Emerson and Hepler were three-over par, while Hutchens and Ogden sailed to three-under par. In the process, a three-shot deficit became a three-shot lead that never was relinquished.
Emerson and Hepler finished the day with a 74 and the tournament with a 210, locked in a three-way tie for second place.
"This is the one event we thought we could win based upon how much golf we play anymore and based upon our skill level," Hutchens said. "To be able to win and share it with your best friend - awesome."
Copyright 2018 The Lawrence Journal-World. All rights reserved. This material may not be published, broadcast, rewritten or redistributed. We strive to uphold our values for every story published.