Photo Gallery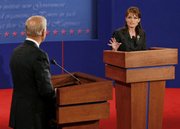 Vice Presidential Debate
-->
Sen. Biden
¢ On the Iraq war: "Barack Obama offered a clear plan. Shift responsibility to Iraqis over the next 16 months. Draw down our combat troops. Ironically the same plan that (Nouri al-) Maliki, the prime minister of Iraq, and George Bush are now negotiating. The only odd man out here, only one left out is John McCain."
¢ On who is at fault for the subprime lending meltdown: "Two years ago Barack Obama warned about the subprime mortgage crisis. John McCain said shortly after that in December he was surprised there was a subprime mortgage problem."
¢ On the causes of climate change: "If you don't understand what the cause is, it's virtually impossible to come up with a solution. We know what the cause is. The cause is man-made. That's the cause. That's why the polar ice cap is melting."
Gov. Palin
¢ On the Iraq war: "Your plan is a white flag of surrender in Iraq, and that is not what our troops need to hear today, that's for sure. And it's not what our nation needs to be able to count on. You guys opposed the surge. The surge worked. Barack Obama still can't admit the surge works."
¢ On who is at fault for the subprime lending meltdown: "Darn right it was the predator lenders, who tried to talk Americans into thinking that it was smart to buy a $300,000 house if we could only afford a $100,000 house."
¢ On the causes of climate change: "I'm not one to attribute every man - activity of man to the changes in the climate. There is something to be said also for man's activities, but also for the cyclical temperature changes on our planet. But there are real changes going on in our climate."
St. Louis — Under intense scrutiny, Republican vice presidential candidate Sarah Palin stood her ground Thursday night against a vastly more experienced Joe Biden, debating the economy, energy and global warming, then challenging him on Iraq, "especially with your son in the National Guard."
The Alaska governor also noted that Biden had once said Democratic presidential candidate Barack Obama wasn't ready to be commander in chief, "and I know again that you opposed the move that he made to try to cut off funding for the troops and I respect you for that."
Biden responded that John McCain, too, had voted against funding, and said the Republican presidential candidate had been "dead wrong on the fundamental issues relating to the conduct of the war."
The clash over Iraq was the most personal, and pointed, of the only vice presidential debate of the campaign, one in which Palin repeatedly cast herself as a non-Washington politician and part of a "team of mavericks" ready to bring change to a country demanding it.
"Maverick he is not on the important, critical issues," Biden shot back, referring to McCain. And he said Obama was the true candidate of change.
Palin, governor of her state for less than two years, faced enormous challenges as she walked onto the debate stage at Washington University. After five weeks as McCain's ticket-mate, her poll ratings have begun dropping as even some conservatives question her readiness for high public office.
Her solo campaign events are few, and she has drawn ridicule for some of her answers in the few interviews she has granted - including her claim that Alaska's proximity to Russia gives her an insight into foreign policy.
From the opening moments of the debate, Democrat Biden sought to make McCain out as a straight-ahead successor to an unpopular President Bush. "He voted four out of five times for George Bush's budget, which put us a half-trillion dollars in debt and over $4 trillion in debt since he got here," Biden said of McCain.
In return, Palin accused Biden of reciting the past rather than looking to the future. "Americans are cravin' that straight talk" that McCain offers, she said midway in the 90-minute debate.
With one month until the election, polls show Obama with a small but perceptible lead, and Republican officials said earlier in the day that McCain had decided to pull out of Michigan, conceding the state to the Democrats. At the same time, his own aides said the campaign may soon begin to advertise in Indiana - a state that has voted Republican in every presidential election since 1968.
After intense preparation - including two days at McCain's home in Sedona, Ariz., Palin made only one obvious stumble, when she twice referred to the top U.S. commander in Afghanistan as "Gen. McClellan." His name is David McKiernan.
As is her custom on the campaign trail, she spoke in familiar terms, saying "betcha" rather than "bet you" and "gonna" rather than "going to."
She also spoke to the home folks. "Here's a shout-out" to third graders at Gladys Wood Elementary School in Alaska. She said they would all receive extra credit for watching the debate.
"Can I call you Joe?" she asked Biden as they shook hands before taking their places behind identical lecterns.
He readily agreed she could - and she used it to effect more than an hour later. "Say it ain't so, Joe," she said as she smilingly criticized him at one point for focusing his comments on the Bush administration rather than McCain.
Biden's burden was not nearly as fundamental as hers. Although he has long had a reputation for long-windedness, he is a veteran of more than 35 years in the Senate, with a strong knowledge of foreign policy as well as domestic issues.
For much of the evening, the debate unfolded in traditional vice presidential fashion - the running mates praising their own presidential candidate and denigrating the other.
Palin said Obama had voted to raise taxes 94 times - an allegation that Biden disputed and then countered. By the same reckoning, he said, McCain voted "477 times to raise taxes."
They clashed over energy policy, as well, when Palin said Obama's vote for a Bush administration-backed bill granted breaks to the oil industry. By contrast, she said that as governor, she had stood up to the same industry, and noted that McCain had voted against the bill Obama supported.
Biden said that in the past decade, McCain had voted "20 times against funding alternative energy sources and thinks, I guess, the only answer is drill, drill, drill."
"The chant is, 'drill, baby drill," Palin countered quickly, unwilling to yield to Biden on that issue - or any other.
On the environment, Palin declined to attribute the cause of climate change to man-made activities alone. "There is something to be said also for man's activities, but also for the cyclical temperature changes on our planet," she said, adding that she didn't want to argue about the causes.
Biden said the cause was clearly man-made, and added, "If you don't understand what the cause is, it's virtually impossible to come up with a solution."
Debate fact-check
Some examples of facts cast adrift in the debate:
PALIN: Said of Democratic presidential candidate Barack Obama: "94 times he voted to increase taxes or not support a tax reduction."
THE FACTS: The dubious count includes repetitive votes as well as votes to cut taxes for the middle class while raising them on the rich. An analysis by factcheck.org found that 23 of the votes were for measures that would have produced no tax increase at all, seven were in favor of measures that would have lowered taxes for many, 11 would have increased taxes on only those making more than $1 million a year.
¢¢¢
BIDEN: Complained about "economic policies of the last eight years" that led to "excessive deregulation."
THE FACTS: Biden voted for 1999 deregulation that liberal groups are blaming for part of the financial crisis today. The law allowed Wall Street investment banks to create the kind of mortgage-related securities at the core of the problem now. The law was widely backed by Republicans as well as by Democratic President Clinton, who argues it has stopped the crisis today from being worse.
¢¢¢
PALIN: Criticized Obama's "plan to mandate health care coverage and have universal government run programs" for health care, and added: "I don't think it's going to be real pleasing for Americans to consider health care being taken over by the Feds."
THE FACTS: Wrong on several counts. Obama's plan does not provide for universal coverage, only mandates insurance for children and doesn't turn the system over to the government. Most people would still get private insurance through their work. Obama proposes that the government subsidize the cost of health coverage for millions who have trouble affording it and he'd set up an exchange to negotiate prices and benefits with private insurers - with one option being a government-run plan.
¢¢¢
BIDEN: Warned that Republican presidential candidate John McCain's $5,000 tax credit to help families buy health coverage "will go straight to the insurance company."
THE FACTS: Of course it would, because it's meant to pay for insurance. That's like saying money for a car loan will go straight to the car dealer.
¢¢¢
PALIN: "Two years ago, remember, it was John McCain who pushed so hard with the Fannie Mae and Freddie Mac reform measures. He sounded that warning bell."
THE FACTS: Republican Sen. Chuck Hagel of Nebraska led an effort in 2005 to tighten regulation on the mortgage underwriters - McCain joined as a co-sponsor a year later. The legislation was never taken up by the full Senate, then under Republican control.
¢¢¢
BIDEN: Said McCain supports tax breaks for oil companies and "wants to give them another $4 billion tax cut."
THE FACTS: Biden is repeating a favorite saw of the Obama campaign, and it's misleading. McCain supports a cut in income taxes for all corporations and doesn't single out any one industry for that benefit.
Copyright 2018 The Associated Press. All rights reserved. This material may not be published, broadcast, rewritten or redistributed. We strive to uphold our values for every story published.