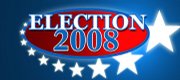 In-depth coverage of the candidates and the issues, all leading up to the Aug. 5 primary and the Nov. 4 general election.
Washington, D.C. — Barack Obama has surged to a seven-point lead over John McCain one month before the presidential election, lifted by voters who think the Democrat is better suited to lead the nation through its sudden financial crisis, according to an Associated Press-GfK poll that underscores the mounting concerns of some McCain backers.
Likely voters now back Obama 48-41 percent over McCain, a dramatic shift from an AP-GfK survey that gave the Republican a slight edge nearly three weeks ago, before Wall Street collapsed and sent ripples across worldwide markets. On top of that, unrelated surveys show Obama beating McCain in several battlegrounds, including Ohio, Florida, Pennsylvania and Iowa - four states critical in the state-by-state fight for the presidency.
Several GOP strategists close to McCain's campaign privately fret that his chances for victory are starting to slip away.
These Republicans, speaking on condition of anonymity to avoid angering the campaign, point to several factors: Obama's gains nationally and in traditionally GOP states, no McCain boost from the first debate, McCain's struggles with economic issues as the financial crisis has unfolded and deepening public skepticism about his running mate, Sarah Palin.
Copyright 2018 The Lawrence Journal-World. All rights reserved. This material may not be published, broadcast, rewritten or redistributed. We strive to uphold our values for every story published.