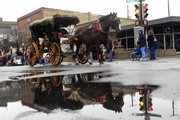 Scott Zaremba grew up on horseback.
As a child, he was raised to love cattle and livestock. As an adult, he's tried to relay that message onto his family.
This explains why Zaremba, president of the Lawrence-based Zarco 66 chain, always looks forward to the annual Downtown Lawrence Old-Fashioned Christmas Parade.
"I think it's a good thing for the community," Zaremba says of the parade, which will take place at 11 a.m. Saturday.
For Zaremba and his family, it's a way for them to experience Lawrence the way it was in the beginning.
"It's a chance to step into the past of when Lawrence was born," Zaremba says. "It takes you back in time."
Zaremba's Zarco chain always helps sponsor the parade because of its family-oriented atmosphere.
"I hope we're always able to support our community," he says.
This year, the parade will celebrate its 16th year.
"They can expect to see a lot of unique entries in the lineup," says Jana Dobbs, community bank president at CornerBank, the event's primary sponsor. "These rigs come from all over the Midwest. We have some new folks from South Dakota with new entries."
Although entrants from all over the area have signed up, Dobbs says sponsorships are down this year due to the state of the economy.
"We're running slightly behind where we were last year at this time," Dobbs says. "We are making some phone calls and getting good responses."
One particular organization that is habitually involved in the parade is the Wild Women of the Frontier. This year, the group plans to enter 15 to 20 horses in the parade.
"It's all horse-drawn," says Jane Pennington, director of Downtown Lawrence Inc.
Pennington is also a member of the Wild Women of the Frontier, which is a group of women who portray famous women in history from the West.
"It's a very friendly parade for our horses," she says. "We don't have to deal with cars and trucks and things like that."
Pennington says 16 members of her organization would appear at the parade, dressed for the occasion.
Besides the Wild Women of the Frontier, Dobbs says about 90 other entrants already have signed up.
"This is the premier horse-drawn event in the entire Midwest," Dobbs says. "You won't go anywhere, especially for free, and see the caliber of animals and rigs that you will be able to see here."
This year Dobbs anticipates that 300 to 350 horses will gallop down Massachusetts Street, while anywhere from 6,000 to 8,000 spectators watch.
"For families looking for a great way to kick off the holiday season, this is a great way to do it," Dobbs says. "We'll have everything from carriages to freight wagons to stagecoaches. We will, of course, have Santa in his sleigh."
Zaremba knows where his family will be on Saturday. They'll be lined up on Massachusetts Street, wearing their winter coats and cheering on the parade.
"If you haven't seen it before, you need to come down," Zaremba says. "There will be people, animals, costumes."
Copyright 2018 The Lawrence Journal-World. All rights reserved. This material may not be published, broadcast, rewritten or redistributed. We strive to uphold our values for every story published.