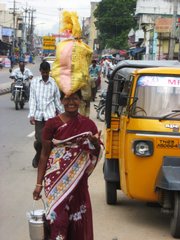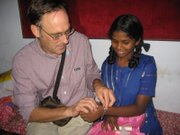 "You can hear about a place, see it in pictures, send and receive letters, but until you see with your own eyes, until you experience it personally, you don't really know it. This is why Philip, upon hearing the news about Jesus Christ, said to Nathanael, "Come and see!" Philip knew that some things in life one needs to experience for themselves." — Peter Luckey, letter, November 2008
Getting off the plane, Peter Luckey walked into an old dream.
It was still dark, and, in reality, it smelled spicy, which he had imagined.
But once day came, the sight wasn't like anything his brain could have conjured. Women lined up at the water spigot, oxen took wagons down the street, and Muslim mosques mingled with Hindu temples and Christian churches.
Color and noise, beauty and poverty, the secular and the religious all blended together in one large paint-by-numbers canvas.
Luckey, the pastor at Plymouth Congregational Church, 925 Vt., always had wanted to go to India. His father had gone to the South Asian country during World War II and returned with stories guaranteed to make any young boy long for a far-off land.
Finally, as a grown man with grown kids of his own, that far-off land was a Technicolor reality. Luckey won a 2008 grant from the National Clergy Renewal Program that paid for his trip to the country, where he planned to preach at the Church of South India, which has a relationship with the United Church of Christ, of which Plymouth is affiliated.
The grant fulfilled Luckey's childhood dream, but it also did more than that. It brought together two lives that had been intertwined for a decade with nary a face-to-face meeting.
Saranya
My first impression? Even though this was the first time I had laid eyes upon her, the feeling I had was that she was our long-lost daughter. How does one convey in words, that feeling of connection, of bondedness? She felt it, too!
— Peter Luckey, letter, November 2008
For 13 years, Luckey's connection to India has been more real that just his dreams — it has had a human face. The face of a girl named Saranya.
Saranya is a 15-year-old orphan who has been sponsored by the Luckey family for 13 years. She's been a part of the Luckey family since they were sent their first picture of a small child living at the Family Village Farm in a poor area of the Indian state of Tamil Nadu.
Each year, the Luckeys got a new photo, and in-between they exchanged letters with Saranya and set up funds to help with her schooling.
"Here's a child I've known, I've corresponded with for 13 years, and we've sponsored her and helped pay for her education, and I never thought in my life that I'd actually get to meet her in person," Luckey says. "At the orphanage, she came up to me and she spoke great English, she's 15 years old, and she took my hand. And as a father, that just moved me deeply."
The relationship was a constant, familiar one, which made the meeting something surreal, even to his wife back home in the States.
"I still can't believe, you know, they actually talked and we have pictures of them both together," Linda Luckey says. "I think for Pete to show up in this country and a place that is so far away and then there is this young woman that you've never met before that knows you, knows your family, kind of knows the stories of when people's birthdays are and stuff, it makes the world a very small place."
The country
"Come and see." ... At the end of the day for each of us, isn't this the way faith works: Hearing from others is not enough, intellectually thinking it through, as important as it is, is not sufficient. You have to see, experience it for yourself. Now I realize there is nothing about those three words that are easy."
— Peter Luckey, sermon, November 2008
Though he admits meeting Saranya was the highlight of his five-week visit during late September and all of October, Luckey says the trip was moving every day.
The country of his dreams came to life in several ways — from behind a pulpit, to fireworks on Diwali and in the fried bananas of the cuisine in Kerala, where Luckey spent the majority of his time.
Every week, he preached at a different Christian church in a nation where Hinduism is the predominant religion. The faith of the Indian Christians was strong — stronger than what he felt he'd seen in his own country.
"What I found was that there was a spiritual vitality and intensity to Christians in India that is lacking in our own country, and I think they're aware of that. And I told them, I think you have something here in terms of the fervor of your religious expression that we're missing," Luckey says. "There was a sense that people took religion seriously. It clearly mattered in people's lives."
At each place he visited, from the churches to a women's cooperative to Saranya's orphanage, he answered questions about the United States. The queries were wide-ranging and serious, especially from local high school and college students.
"They had so many questions about America and American culture," Luckey says. "They asked about why is there so much divorce in America and questions about teen dating, questions about the U.S. economy and why is the U.S. economy in bad shape and what caused that.
"And I told them, you know, the U.S. doesn't have all the answers."
Meanwhile, he was also answering questions back home, detailing his trip in a blog (www.revdocpal.blogspot.com) he wrote from many Internet cafes in Kerala. There he told of his experiences, showed photos of the rich and beautiful land, and shared his thoughts on the country's religious pluralism.
Back in the United States on Nov. 1, ready to vote in a presidential election the people of India were very curious about, Luckey was happy to be back, enjoying deep-dish pizza after touching down in Chicago. Though pleased to once again have reliable electricity and drinkable water, he was clear in his feelings for the trip he just finished.
"Just an extraordinary, life-changing five weeks," he says. "I mean, you come back and you really see the country in a new way."
Copyright 2018 The Lawrence Journal-World. All rights reserved. This material may not be published, broadcast, rewritten or redistributed. We strive to uphold our values for every story published.