Audio Clips
2008 KU-MU football
Photo Gallery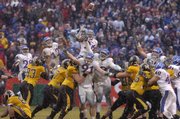 KU vs. Missouri
-->
-->
Event
KU vs. Missouri
Where: Arrowhead Stadium, 1 Arrowhead Drive, Kansas City, MO
Age limit: Not available
Cost: $35 - $60
-->
-->
KU 40/MU 37 — FINAL
KU kicks it deep to Maclin, and he comes through with a return to the MU 39. Daniel completes a 25-yard pass down the middle to Jared Perry but after an incompletion, Wolfert comes out for a 54-yard field-goal attempt in the snow. It's blocked by KU as time expires, and the Jayhawks storm the field after a dramatic 40-37 victory over their border rivals.
KU 40/MU 37 — 27 seconds left in 4th quarter
Reesing throws a ball up for Briscoe in the end zone, but it's broken up. Reesing misses Briscoe on a cross, and KU calls timeout. Fourth-and-6 from the 26.
Reesing somehow wiggles his way out of a heavy pass rush, then lofts the ball high in the air toward the end zone. Meier runs under it perfectly, scoring a TD with 27 seconds left. What a play and throw by Reesing. Unbelievable.
MU 37/KU 33 — 44 seconds left in 4th quarter
Reesing, after buying some time, finds Sharp on the sideline for a 12-yard pickup.
After an incomplete shovel pass, Reesing finds Meier on a shallow cross for 11 yards to the MU 44.
Reesing hits Meier over the middle for six yards. Following a hurried snap, Reesing amazingly sidesteps two defenders before finding Meier for a diving 9-yard grab to the MU 29. After review, the play stands as called.
Meier catches another pass for three yards, and MU calls timeout. Second-and-7 for KU at the MU 26.
MU 37/KU 33 — 1:50 left in 4th quarter
With Maclin out because of injury, KU kicks it deep and covers it well. The Tigers take over at their own 27.
Danario Alexander gets 13 yards on a sideline pass to pick up a first down.
Washington slips on the turf to cause a first-down incompletion, and Daniel completes a 8-yard pass to Coffman on the next play. On 3rd-and-2, Daniel finds a huge hole on the left side, rushing 21 yards to the KU 31.
Maclin spins away from a tackler, picking up 14 yards before hobbling back to the sideline. Daniel finds Daniel Perry for 14 yards on the next play to the KU 6.
Washington bursts through a hole on the right side, going six yards in for the score. This game will now be in Reesing's hands with 1:50 left.
KU 33/MU 30 — 4:26 left in 4th quarter
Briscoe comes through again, breaking 40 yards to the left on the kickoff return to give KU great field position at the MU 49.
Reesing completes a pass to Fields, who turns and spins to pick up 11 yards.
After a Sharp 2-yard run (he looks hurt out there to me), Reesing is stripped on second down, but Jeff Spikes is there for the recovery.
Briscoe must have gotten hurt on the kick return, because he's not in there on 3rd-and-10.
Reesing finds Marcus Herford down the left sideline for a 28-yard gain. Herford did a great job keeping his feet in, leaning his body over the boundary while keeping his feet inbounds.
Reesing finds a wide-open Meier in the corner of the end zone on the next play, and KU is back on top by three with Branstetter's kick. Still a ton of time in this one.
MU 30/KU 26 — 6:52 left in 4th quarter
Maclin runs an out route and elevates for an 11-yard catch on 3rd-and-10. He stays on the ground afterwards, as it appears both he and KU's Arist Wright are injured. Maclin hobbles off with what could be a back injury, and Wright walks off favoring his right leg.
Coffman catches a 9-yard pass to the outside. The next play, Coffman catches a screen over the middle, hurdling his way six yards into the end zone for the score. Wolfert's PAT means that KU will need a touchdown to win this one.
KU 26/MU 23 — 7:47 left in 4th quarter
Washington picks up five yards on a run up the middle, then 11 yards on a sideline reception. Maclin follows with 11 combined yards on a run and reception.
Maclin gets another first down on a screen over the middle, picking up five more yards. MU has moved it to the KU 39.
Washington runs through a big hole on the left side, gaining 14 yards and another first down.
Coffman drops an easy pass, and Daniel is chased out of the pocket and has to throw it away on second down. Daniel calls timeout as the snow comes down at a faster pace.
KU 26/MU 23 — 11:02 left in 4th quarter
On a 3rd-and-5, Daniel hits Maclin for six yards over the middle to keep the drive going.
Jeff Wheeler misses a tackle on Maclin in the backfield, and Maclin makes him pay, sprinting 23 yards up the sideline to the MU 47.
KU is fortunate once again, as Saunders drops a deep pass down the field. He was open on the play and had at least 25 yards if he would have held on.
Stuckey continues his great day, though, reading Daniel's eyes and breaking to pick off a pass before falling out of bounds. KU will take over at its own 37.
Sharp gains one on a screen, and Meier gets six on a tough catch over the middle. On 3rd-and-3, Reesing scrambles five yards for a first down but pays the price, taking a huge hit from an MU defender.
KU once again faces a 3rd-and-10, and Meier drops a sideline pass short of the first down. Rojas' punt puts MU at its own 21.
KU 26/MU 23 — 33 seconds left in 3rd quarter
KU's defense gets MU to a 3rd-and-10 but can't finish. Maclin slides for a 13-yard grab to keep the drive going.
A sack by Onyegbule forces a 3rd-and-10 for MU, and Maclin comes up with another diving catch, only this time it's two yards short of the chains.
Big break for KU. On 4th-and-2, MU punter Jake Harry has a convoy of blockers around the right side on a fake punt, but the Tigers are whistled for a delay of game before the play. After a real punt, KU takes over at its own 26.
Briscoe is called for holding on a running play, and already, KU is backed up.
Jake Sharp gets a shovel pass on the next play, springing free for 18 yards up the middle. After an incompletion, Briscoe drops a slant, and KU will have to punt.
A booming kick by Rojas (56 yards) means MU will take over on its own 10. This has been Rojas' best game of the season.
KU 26/MU 23 — 5:44 left in 3rd quarter
Briscoe regains some momentum, finding a hole and taking the kickoff all the way back to the MU 47. That switch has paid major dividends for KU.
Three plays and out for KU, as two runs go nowhere and Reesing's third down pass goes incomplete.
Another Aussie-style punt for Rojas, who does a good job by pinning MU back at its own 13.
KU 26/MU 23 — 7:17 left in 3rd quarter
The momentum has shifted at Arrowhead.
After a nice return by Briscoe, Reesing has a second-down pass batted up in the air and intercepted by Jaron Baston. He rumbles down to the KU 35, and the MU crowd has come back to life.
The next play, Daniel finds Saunders 35 yards down the sideline for a quick score. Stuckey was burned on the play in man coverage. Wolfert's PAT cuts the KU lead to 26-23.
KU 26/MU 16 — 8:14 left in 3rd quarter
KU has another short kick that doesn't work, as Maclin gets it and takes it to the 44. Branstetter comes up with another big hit, upending Maclin by hitting him low.
Daniel runs for 19 yards on a quarterback keeper.
MU throws a weird formation at KU for a trick play, but the Jayhawks snuff it out, as MU backup quarterback Chase Patton is tackled 10 yards behind the line of scrimmage. He also fumbles, but the Tigers recover.
Maclin picks up an 8-yard gain on a reception, then Coffman makes a huge catch for MU, sliding to make a 13-yard catch on 3rd-and-12.
The Jayhawks get mixed up in their coverage on the next play, and Maclin takes a slant 26 yards down the middle for a TD. The Tigers offense is explosive, so it's tough to count them out of any game.
MU goes for two to make it a one-possession game, but Danario Alexander catches a pass from Daniel out of bounds. Big play for the KU defense.
KU 26/MU 10 — 10:29 left in 3rd quarter
Briscoe comes through again for KU, going high in the air to bring down a 28-yard pass down the sideline from Reesing on 3rd-and-12. Again, not Reesing's best pass, but he did get it to him. With a perfect ball, Briscoe goes the distance for the score.
On 3rd-and-2, Reesing runs a quarterback draw and squirts through the middle for eight yards.
On the next play, Sharp breaks through the right side of the line for a 19-yard touchdown. MU's defense looks fatigued, and it's only the third quarter. A near-flawless drive for KU, going 10 plays, 75 yards and taking 4:31 off the clock.
KU 19/MU 10 — 12:55 left in 3rd quarter
On first down, Reesing misses a wide-open Briscoe down the sideline. The official dropped his hat, though, meaning Briscoe might have stepped out of bounds earlier.
Reesing completes a 4-yard pass to Wilson, and on 3rd-and-6, the quarterback pulls a rabbit out of his hat again. He scrambles all the way across the field before avoiding a tackler and throwing a duck to Wilson for a 10-yard gain. First down, KU.
KU's drive starts to go backward after that, though, as Reesing loses two on a run then throws an incompletion. He calls timeout before the 3rd-and-12 play.
Kansas leaders
Rushing
Jake Sharp 13 carries, 30 yards
Todd Reesing 6 carries, 7 yards
Passing
Todd Reesing 21-for-24, 181 yards, 2 TDs, INT
Receiving
Dezmon Briscoe 8 catches, 87 yards, TD
Kerry Meier 7 catches, 37 yards
Dexton Fields 5 catches, 51 yards, TD
Missouri leaders
Rushing
Chase Daniel 5 carries, 61 yards
Derrick Washington 6 carries, 25 yards
Passing
Chase Daniel 6-for-15, 62 yards, TD, INT
Receiving
Chase Coffman 2 catches, 17 yards, TD
Tommy Saunders 2 catches, 12 yards
Jeremy Maclin 1 catch, 30 yards
Two telling stats:
• Time of possession: KU 21:34, MU 8:26. And KU will receive in the second half. It's been a great gameplan so far for the Jayhawks, and we'll see if they can follow through with the ball-possession game in the second half. The Tigers' defenders should wear down by the end.
• KU was 7-for-10 on third-down conversions. Those have allowed the drives to keep going.
I agree with Sawman3333 below. This is a huge drive to start the second half for the Jayhawks. Something like a 12-play, 70-yard, 6-minute TD drive would be crushing for MU's defense if the Jayhawks could put it together.
KU 19/MU 10 — Halftime
Branstetter kicks the ball out of bounds, as KU has been avoiding Maclin all day on kickoffs.
Daniel hits Coffman for 12 yards before picking up a key first down. On third-and-7, Daniel scrambled and ran right around Joe Mortensen, picking up 12 yards to get a fresh set of downs.
James Holt comes through with a sack for KU to force a third-and-8, and pressure from Mike Rivera on a blitz made Daniel throw it away on third down.
Jeff Wolfert comes through for MU, though, hitting a 48-yarder with plenty of distance to spare to cut the KU lead to nine.
KU kneels it once to take us to halftime.
KU 19/MU 7 — 1:54 left in 2nd quarter
The drive doesn't start well for KU, as Sharp is tackled for a 6-yard loss. Briscoe grinds out eight yards on a wide-receiver screen, and Reesing hangs in a collapsing pocket before finding a sliding Meier for an 11-yard gain over the middle.
Reesing gets a little lucky, as after getting extreme pressure on third down, he floats one up for grabs. Luckily for the Jayhawks, Meier comes down with it, and after a move, he lands a half-yard short of the first down. On fourth down, Reesing sprawls forward on a sneak, picking up the needed yard to move the chains.
Reesing hits Fields for an 8-yard gain over the middle, and on third down, Reesing hangs in long enough to find a wide-open Fields for a 25-yard touchdown catch over the middle. Blown coverage for MU, and Reesing stayed composed enough to take advantage.
Branstetter's PAT gives KU a 12-point edge.
KU 12/MU 7 — 6:16 left in 2nd quarter
Laptad comes up with a big play, as on second down, he dragged down Daniel in the end zone. Daniel tried to throw the ball away short of the line of scrimmage, but after a conference from the officials, a flag was thrown for intentional grounding. It's a safety for KU.
KU 10/MU 7 — 6:54 left in 2nd quarter
Dezmon Briscoe returns the kickoff and does a decent job, taking it to the KU 31. I asked Mangino earlier this week if he was going to stick with Marcus Herford on kickoffs, and he was real short when he said that they were still working Herford back there. Now I know why.
Reesing knew he was going to take a big hit, but he still was able to deliver a deep ball to Briscoe over the middle for 32 yards. A couple feet farther on the throw, and Briscoe would have had six.
Briscoe comes up with a spectacular one-handed catch to pick up seven yards, but Jeremiah Hatch gets overpowered on a rush by Stryker Sulak, and Reesing is taken down for an 11-yard loss.
KU is forced to punt, but Alonso Rojas does a tremendous job, kicking it rugby-style down to the MU 2-yard-line. The Tigers will take over there.
KU 10/MU 7 — 10:19 left in 2nd quarter
After an MU first down, Maclin breaks free on a wide-receiver screen and sprints 30 yards down the sideline. The Tigers are already inside the KU 20.
Washington comes through with a big play, stopping in his tracks to avoid Jake Laptad, who looked like he was going to stop the play for a loss. Washington ran 10 yards for another first down before being taken down by Maxwell Onyegbule.
Daniel has been elusive today, as he somehow avoids an unblocked Onyegbule, who missed his legs while trying to tackle him low. Daniel fell forward for 2 yards, and on the next play, he found Chase Coffman in the corner of the end zone for a touchdown. Daymond Patterson was on the coverage, but at 6-foot-6, 255 pounds, Coffman's size was too much for the undersized Patterson.
KU 10/MU 0 — 14:25 left in 2nd quarter
Briscoe breaks a tackle on a short route to pick up 12 yards and a 1st-and-goal for KU at the MU 9.
Briscoe hits pay dirt on the next play — a wide-receiver screen — scoring from nine yards out to extend KU's lead. Branstetter's PAT makes it 10-0 Jayhawks.
Time of possession right now: KU 13:24, MU 2:11.
KU 3/MU 0 — End of 1st quarter
After a pair of incompletions, Daniel breaks through into the KU secondary, running 54 yards before Stuckey makes a great play from behind. He strips the ball, then recovers it, giving KU possession at its own 37.
Reesing throws to Fields for 14 yards, then gets a first down himself after diving forward for two yards on a 3rd-and-1.
Reesing shows some juke moves inside, gaining 5 yards after breaking about three tackles to gain another first down.
KU 3/MU 0 — 3:38 left in 1st quarter
Reesing does it again, hitting Kerry Meier for a 5-yard gain on a 3rd-and-4 to move the chains. KU's doing exactly what is has to do, which is hold on to the football and keep it away from MU's offense.
The drive ends with a mistake from Reesing, though, who tries to throw across his body to an open Meier in the end zone. Instead, Kenji Jackson picks it off for MU, taking it out to the KU 9.
KU 3/MU 0 — 5:23 left in 1st quarter
Dezmon Briscoe has to go to a knee, but he's able to come up with a tough 6-yard catch to keep the KU drive going on a 3rd-and-4. It's the first first down of the game.
Briscoe comes through again on 3rd-and-9, once again going low to catch a poorly thrown ball by Reesing to get nine yards exactly.
Sharp followed with a 9-yard run around the right side on the next play, and after a four-yard run to the right, it's no secret where KU offensive coordinator Ed Warinner believes his best run blockers are.
Reesing takes a hit on 3rd-and-4, but he delivers a nice ball in traffic to Johnathan Wilson, who holds on for a 6-yard gain and first down.
KU has moved it to the MU 16 before calling a timeout to avoid a delay-of-game penalty.
KU 3/MU 0 — 11:39 left in 1st quarter
Washington is stuffed for a 1-yard loss, and on an attempted wide-receiver throw, Tom Saunders thinks better of it and runs forward for four yards. Daniel heaves a deep ball down the sideline on third down, and Maclin drops it while falling down. Stuckey had pretty good coverage on the play.
Following a 33-yard punt, KU will take over at its own 32.
KU 3/MU 0 — 13:06 left in 1st quarter
KU contains Jeremy Maclin on the kickoff, and the Tigers take over from their own 28.
Chase Daniel's first pass goes incomplete out of bounds, and Derrick Washington drops a screen on the next play. Daniel throws into double coverage on the next play, and Darrell Stuckey intercepts it and returns it to the MU 20. It looks like an MU receiver ran the wrong route.
After a wide-receiver screen to Dexton Fields for no gain, Jake Sharp gains four on an option run. Reesing throws a pass too hard to Fields (who was close to Reesing), who drops it well short of the first down.
Jacob Branstetter splits the uprights on a 34-yard field goal, and KU takes the early lead.
11:39 p.m.
Missouri wins the toss and will receive.
11:35 a.m.
No gloves for Todd Reesing. KU fans rejoice at the sight.
11:22 a.m.
It's starting to spit snow here at Arrowhead. As of now, I'd say it's about 70 percent Missouri fans, 30 percent KU fans.
10:48 a.m.
A couple of quick-hit notes:
• Not only was Jake Sharp participating in pre-game workouts, he also was fielding kicks. Interesting.
• Kerry Meier was working out with the team. Looks like he'll give it a go.
• The Jayhawks have come out with white pants for the first time all year (and we believe the first time since 2004). The white pants have a blue stripe down the side. The Jayhawks also are wearing their white tops.
• The Tigers also have broken out new unis, as they have gold tops with black numbers. I like the look of them. MU's players also are wearing black pants with a gold stripe down the side.
10:35 a.m.
Welcome back to The Newell Post Live, coming to you from Arrowhead Stadium in Kansas City, Mo., where the Kansas Jayhawks are getting set to meet the Missouri Tigers in the 117th meeting of the Border Showdown.
Just a quick note before we get going: KU linebacker Joe Mortensen was wearing only a cutoff T-shirt during warm-ups in today's frigid conditions. They don't call him crazy for nothing.
Let's get to our true/false, fill-in-the-blank questions for this game.
True or false: Jocques Crawford will receive the most carries for KU today.
True. KU coach Mark Mangino hasn't officially said that running back Jake Sharp is out, but word is, he has a rib injury. Sharp's on the field working out in uniform, so he'll probably try to go, but who knows how long he'll be able to stay in. Though Angus Quigley ran well against Texas, his two fumbles set KU back and probably cost him any trust that Mangino had in him. That leaves Crawford — the one KU coaches have been trying to thrust into the starting spot since the start of the season. Look for him to get the bulk of the carries, though the Jayhawks haven't run the ball enough in the last few weeks to convince me that they will try to run much today.
True or false: Missouri's Chase Daniel will throw for 350 yards against KU.
False. Have the Jayhawks learned how to defend Missouri's spread yet? We'll find out today, as Daniel takes aim at KU's 114th-ranked passing attack. The conditions are cold, but that didn't stop Daniel from having a good game last year at Arrowhead against KU. With two weeks of preparation, I'll say that KU defensive coordinator Clint Bowen had enough time to come up with a specific gameplan for MU, and that the Jayhawks will hold Daniel just under the 350 mark.
True or false: Jeremy Maclin will have 200 all-purpose yards for MU.
True. Maclin might be the difference-maker in this game. If the Jayhawks can hold him down in the return game, they will have a chance to hang in this game late. KU has had tons of problems in the return coverages, though, and it wouldn't surprise me at all to see Maclin take either a punt or kickoff "to the crib" against KU's struggling unit.
If KU wins, it will be because:
it plays keep-away. We've said this before, but it hasn't happened with KU. The Jayhawks need a find a way to run the football and keep the dangerous Daniel off the field. It wouldn't hurt, either, to use up a little more of the play clock on offense. I noticed in the first quarter against Texas last week, Reesing was snapping the ball with between 15 and 20 seconds left on the play clock. When you are the underdog, you want to shorten the game, not lengthen it. The Jayhawks' best chance to win today will be to shorten this contest as much as they can.
If Missouri wins, it will be because:
their offensive line dominates KU's defensive line. It's happened too often for KU this year: the Jayhawks' defensive line has been dominated by a bigger, more physical offensive line from the other team. The average MU offensive lineman is 6-foot-5, 309 pounds, so KU's defensive front will have another challenge today. Not only that, MU has only allowed one sack per game despite throwing a high number of passes. If the Jayhawks can't find a way to get consistent pressure on Daniel, it has the possibility to look like 2007 all over again.
Prediction: Missouri 42, Kansas 24
The Jayhawks have been a hard team to predict this season. My feeling is that KU will either win a close one today or lose a blowout. I'd say the blowout is more likely based on how both teams are playing coming in. Expect Maclin to have a huge day against the Jayhawks' special teams, and look for Daniel to do enough on offense to lead the Tigers to their third straight victory in the series.
Copyright 2018 The Lawrence Journal-World. All rights reserved. This material may not be published, broadcast, rewritten or redistributed. We strive to uphold our values for every story published.