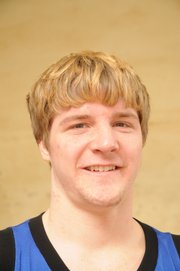 Perry — Perry — His last name is NOT the same as the character in the Beetle Bailey comic strip, or the protagonist in the movie "Gremlins."
He is NOT Shane Gizmo. He is Shane Gimzo.
"Everybody messes it up, but I'm used to it," said Gimzo, Perry-Lecompton High's prolific senior QB, with a smile.
Thus it is with a sense of amusement that Gimzo politely corrects those who unsuspectingly assume his last name is the same as a small technological item.
"When I was younger," he said, "my parents told me I'd just have to live with it. It's all fine with me."
While living with his unusual name, Gimzo also has made a name for himself by displaying his unusual talents on a football field.
He hasn't single-handedly led the Kaws to their unprecedented trip to the Class 4A state championship game, but it's obvious they wouldn't have a date with tradition-rich Topeka Hayden on Saturday in Salina without the 6-foot-1, 178-pounder.
Gimzo isn't the fastest runner around, yet he has rushed for 1,798 yards in Perry-Lecompton's 13 games and has scored 32 touchdowns.
At the same time, Gimzo doesn't possess a golden arm, yet he has passed for 2,030 yards and 16 touchdowns. Add the numbers, and he has accumulated nearly 4,000 yards of total offense while accounting for an astronomical 48 TDs.
"He makes plays," Perry-Lecompton coach Mike Paramore said. "He's special."
Lawrence Little Leaguer
Gimzo has been making plays ever since his Little League days in Lawrence.
Soon after his parents moved from Iowa Falls, Iowa, to Perry about a decade ago, Gimzo learned about Lawrence's Little League program from Perry Grade School contemporaries Kyle Morgison and Aaron Andrew.
Today, Morgison, a 5-11, 176-pound senior, is Gimzo's favorite target, with a team-high 42 receptions, while the 5-11, 190-pound Andrew is one of the club's leading tacklers.
Back when they were fifth- and sixth-graders, they played for the Hurricanes team that captured back-to-back Toy Bowls and lost only one game — to a Wichita team in the state meet.
In those days, Morgison was the fullback, while Gimzo was the halfback. The Hurricanes' quarterback was Clint Pinnick, who just concluded a two-year stint as Lawrence High's starting QB.
Pinnick hasn't seen any Perry-Lecompton games in person, but he watched a replay of one on Sunflower Broadband and certainly wasn't surprised by what he saw in Gimzo.
"He hasn't changed any," Pinnick said. "He's still as good a runner as he used to be."
Now Gimzo is a passer as well and, not surprisingly, has caught the eye of numerous junior-college and small-college coaches. He's holding out, though, inspired no doubt by the impact Todd Reesing has made at Kansas University.
Although about 20 pounds lighter than Reesing, Gimzo is two inches taller than the KU standout and conceivably would fill out.
Upper-echelon dream
"My dream is to play D-1," Gimzo said, "at somewhere like KU or K-State, so I'm keeping my options open."
If not as a running back or quarterback, then perhaps as a defensive back. Gimzo says he enjoys defense as much as offense, and he leads the Kaws with six interceptions and six passes broken up.
Oh, and he also returns kickoffs and punts.
Moreover, his citizenship runs on at least a parallel plane with his athletic skills.
"He's the greatest athlete I've ever seen," fellow senior Caleb Wege said. "But he's also humble, a role-model guy."
Copyright 2018 The Lawrence Journal-World. All rights reserved. This material may not be published, broadcast, rewritten or redistributed. We strive to uphold our values for every story published.