Photo Gallery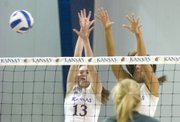 KU vs. Baylor
Savannah Noyes and Natalie Uhart, the lone seniors on Kansas University volleyball team, lined up side-by-side on the front row for Wednesday night's final point inside Horejsi Center.
Purely coincidental? The volleyball spirits know better.
On senior night, the duo who shared so much court time together ended their home careers in their familiar spots with a victory. Uhart provided the final block as Kansas defeated Baylor, 3-1 (20-25, 25-20, 28-26, 25-18).
KU coach Ray Bechard said he had no control over how the lineup shook out once players began rotating after the final set's first point. And, holding a 21-12 lead in that set, the Jayhawks could've closed out the match with Noyes standing on the sideline and needing two more side-outs to re-enter the match.
Instead, she returned with Kansas ahead, 22-16, for the match's final five points.
"It was really important to me," Noyes said. "And I was glad I could be out there."
Said Uhart: "It was just perfect. It's the best way to go out."
Kansas didn't register its first lead until midway through the second set. Back-to-back Uhart kills tied the score at 12, and the Jayhawks finally grabbed an advantage at 13-12 when Baylor's Katie Sanders spiked a ball into the net. KU, which took control with eight consecutive points, closed out set two on Noyes' kill at the front of the net.
In each of the Jayhawks' winning sets, either Uhart or Noyes finished off the Bears (18-12, 9-10 in the Big 12) for the final point.
KU opened up an 11-2 lead to begin the third set, only to see Baylor storm back and earn a set point at 26-25. But KU sophomore outside hitter Karina Garlington tied the set with a kill, and Uhart provided the clutch kill to push the Jayhawks ahead, 2 sets to 1.
"That would've swung the momentum big-time," Bechard said. "But we did not allow that to happen."
The Jayhawks coasted in the final set. Fittingly, Noyes and Uhart each contributed one final Horejsi Center moment. Noyes' final kill in a home uniform gave Kansas a set point at 24-18. Uhart followed that with a block to end the match and move the Jayhawks to 13-15 (7-12).
The evening marked the first senior-night victory for KU in four years.
Bechard said despite the pageantry of the night, which included flowers for Noyes and Uhart before the match and individual post-match speeches to the crowd, one thing would stand out even more.
"They might remember a little bit about what they said tonight," Bechard said, "but what they'll really remember is, 'Hey, our team played well, played hard and played together.' ... So that's what we stressed all week is that this is what you'll remember 10, 15, 20 years from now is how the team played."
Uhart paced the Jayhawks with a .417 hitting percentage. She smacked 12 kills and added six blocks.
Noyes recorded eight kills with two blocks and two assists.
Uhart started all 48 matches in which she has played for Kansas since transferring from Long Beach State University. Noyes started 82 of the 127 matches in her four-year Jayhawks career.
"It's just one of those feelings that at the very end, you just take a deep breath and just smile and be happy," Uhart said.
Copyright 2018 The Lawrence Journal-World. All rights reserved. This material may not be published, broadcast, rewritten or redistributed. We strive to uphold our values for every story published.