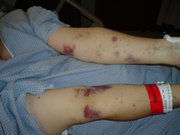 It was supposed to be a quick weekend trip to California to attend his mother's 80th birthday bash with family and old friends.
But once 48-year-old Sam Hunsaker left Lawrence, the trip took an unexpected turn.
"I kept telling the nurses, 'Just call me Dorothy because all I want to do is go home,'" he said.
•••
On a Thursday, Sam and his wife, Robin Hunsaker, left Lawrence and stopped on the Kansas Turnpike to get a bite to eat before catching their flight at Kansas City International Airport. That's when Robin noticed spots on her husband's hands.
"It looked to me like something I had sprayed on my hand and kind of dyed because they were lavender in color. I went to wash them off and then they turned darker red," Sam said.
The day before, Sept. 10, Sam had used a purplish household cleaner on the stove and sprayed their tree for bagworms. He figured it was an allergic reaction. He took Benadryl at the airport and boarded the plane, figuring he would be fine.
They had one stopover in Denver and by the time they landed there, the spots had spread to his feet, ankles and legs. Although they were unappealing, he said they didn't hurt.
"By the time I got to L.A., I had blood blisters in my mouth about the size of a dime," Sam said. He had spots on his gums and tongue, too.
After checking into the hotel just before midnight, Sam went to Garden Grove (Calif.) Hospital, where the Hunsakers thought after a short wait Sam would be treated with a couple of shots.
That short wait turned into hours and then days. Doctors ran tests and diagnosed idiopathic thrombocytopenic purpura or ITP, a condition in which the blood doesn't clot as it should. This is due to a low number of blood cells called platelets, which help stop bleeding by sticking together to seal cuts and wounds.
People with ITP may have nosebleeds, bleeding gums, blood in their urine or stools. Some, like Sam, get spots caused from bleeding under the skin. Often, the disease progresses rapidly.
Dr. Barry Skikne, a hematologist and oncologist at Kansas University Hospital, said ITP is not uncommon and often is caused by a viral infection. Some cases go unnoticed and heal on their own, but most require a treatment of drugs.
Skikne said KU Hospital sees 20 to 30 new ITP patients each year. And a few cases are chronic, like Sam's.
A normal person's platelet count is 140,000 to 400,000 platelets per microliter of blood. Sam's count was 2,000.
"That's extremely low and that's why he was having the bleeding in his mouth," Skikne said. "When you have the bleeding in the mouth that means the whole gastrointestinal tract may look like what's going on in the mouth."
When the platelet count dips below 10,000, Skikne said, a person could bleed to death.
•••
The Hunsakers' original plan was to visit with friends and family on Friday and Saturday. On Sunday, Sam was going to be master of ceremonies at the Hawaiian-themed party. On Monday, they would return to their East Lawrence home.
"That's all we packed for — a short weekend. A couple pair of socks, a couple pair of shorts, my sandals, a couple Hawaiian shirts, and I ended up wearing a hospital gown."
His world was turned upside down in a matter of hours.
After spending a week at Garden Grove, Sam was moved 8 miles to St. Joseph Hospital in Orange, Calif. It just happened to be where Sam was born.
"I remember going, 'Is this a cruel joke, God? Am I going to die in the same place that I was born?'" Sam said.
Once there, doctors tried more drugs but they didn't work. So, they removed his spleen, which makes most of the antibodies that destroy blood platelets. That's successful in 60 to 65 percent of ITP cases.
Once again, Sam was one of the unlucky few. Not only did the splenectomy not work, but it turned into a four-hour emergency because he began bleeding after doctors accidentally clipped his colon.
"After that, I told all of the doctors and nurses in the hospital that they were not allowed to use the phrase worst-case scenario with me anymore, and I made them write it on my chart because every time they said worst-case scenario, it would happen," Sam said with a chuckle.
Roberta Nelson, a registered nurse at the hospital, said it was just one example of how Sam used humor in coping with the situation.
"He was a character," she said.
When he went for walks, he took Michelle — his IV pump — along. He also had a thumb tip with a red light that he carried around with him. It was similar to the light on the IV pump, so he had fun teasing the nurses with it. He would stick it in his mouth for a "light snack" or in his ear and say he felt "light headed."
Sam said when doctors would ask how he was doing, he often replied, "bloody good."
•••
The Hunsakers longed to be home. They missed their English Springer Spaniel, Buddy.
In California, Robin rotated among hotels, the hospital and her mother-in-law's home. She did a lot of laundry and changed airline flights four times. They also tried to take care of business, such as paying the mortgage, on the Internet.
Luckily, one of their five grown children — Dawn Monson — was able to help out back in Lawrence.
"To me, I don't know what people do without their families because I think that would be difficult," Robin said. "They've really helped pull us through this."
•••
Finally, Sam found a bit of luck — a drug that increased his platelet level to about 130,000. That was enough to return home after 38 days in the hospital.
"I teared up at the airport when we actually had our boarding passes. I knew we were going home," Sam said. "On the plane, my wife and I were just holding hands all the way back."
Now, he is seeing Dr. Eston Schwartz, a hematologist at Lawrence Memorial Hospital, who was unavailable for comment.
"I am feeling fine," Sam said, sipping coffee. He is taking a drug called Cytoxan that causes him to lose his appetite and feel tired. The drug also might cause hair loss. The plan is to take the medicine for 90 days and then see if his platelet level remains up. It's about 300,000 now.
Robin has returned to her job as a teacher. Before ITP, Sam was on work leave due to a job-related injury to his shoulder. He hopes to return to work when he's healed from both.
The Hunsakers said they have a lot to be thankful for this Thanksgiving.
"Our faith and having people pray for us and having our family supporting us," Robin said.
The two, who met while working at Disneyland, plan to celebrate their 10th wedding anniversary Thursday by helping Lawrence Interdenominational Nutrition Kitchen deliver meals in the community.
"In 10 years, we've never been homeless and we've always had a good roof over our heads and plenty to eat, so to celebrate, we volunteered to help others," Sam said.
Copyright 2018 The Lawrence Journal-World. All rights reserved. This material may not be published, broadcast, rewritten or redistributed. We strive to uphold our values for every story published.