Photo Gallery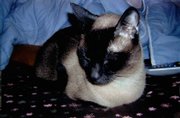 Pet Post: Winter 2008
• Cold: Don't leave your dog outside for long periods of time. Wind chill makes days colder than actual temperature readings, and dogs are susceptible to frostbite on their ears, tails and feet.
• Ice and snow: Be extra careful when walking or playing with your dog outside. Your pup could slip or jump in a frozen lake, river or pond and get seriously injured. Snow can muffle scents, and your dog can easily get lost.
• Carbon monoxide: Don't leave your dog alone in a car. It gets too cold, and carbon monoxide from an engine left running is dangerous.
• Antifreeze: Although it smells and tastes good to your dog, antifreeze is highly poisonous and can be lethal.
Additional tips can be found on the American Kennel Club Web site at www.akc.org.
Copyright 2018 The Lawrence Journal-World. All rights reserved. This material may not be published, broadcast, rewritten or redistributed. We strive to uphold our values for every story published.