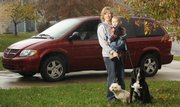 Yes, it's a status symbol of sorts.
It's big, full of horsepower and gives an instant update to the guy tailgating you exactly where you stand in this world.
However, it doesn't scream your bank account balance like a new Hummer or show off your green tendencies like a shiny Prius.
Instead, it screams "I have kids in my life!" just as much as an honest-to-goodness honor-roll bumper sticker.
It is the minivan.
Over the years, it has been much maligned as the vessel of the soccer mom and a dinosaur nearly killed by the rise of the SUV. But these days, it is the trusty helper for many around Lawrence, both men and women, who have embraced the minivan as both godsend and motor vehicle.
A man and his van
Scott Braden is supremely comfortable behind the wheel of the white minivan that he drives during his alternate life as a Scout Master.
"It was a kid-related decision," says Braden, father of two Boy Scouts himself, sons Andrew, 18, and James, 13 with wife, Cammie. "Just for transporting kids and all, even before we were really involved in Scouts, with kids and traveling to see family in Wichita and all, it was just nice having the minivan."
Usually, the Lawrence resident tootles around in a Ford Taurus, something nice and practical for his day job as a regional manager for mortgages for Commerce Bank. But, a few times per month, he gets behind the wheel of the family van and converts the Town and Country into a hauling machine for Boy Scout Troop 55.
Scouts, camping gear, lumber from The Home Depot — anything and everything goes inside the van. Recently, he stuffed in giant tomahawk tripods for a camp activity.
"The stands are 8 feet tall, and so they won't fit in my car, so I had to take the back seat out of the van," Braden says. "The van for me is a passenger van, but it is also a cargo van for hauling Scout equipment. Which is nice, because I can take five of the seats out, so it's just a two-seat van, and then I can fill it up with camp boxes and gear and sleeping bags and things like that."
Giving up her sports car
Where Braden is quite secure behind the wheel of his minivan, Lori Kemme was apprehensive about giving up her little sports car in favor of her 2006 Dodge Grand Caravan.
She knows it sounds like something a guy would say — Woe is me, my life is over, I'm driving a minivan — but she acknowledges that it was a sad day when she traded in her sports car for her shiny, reddish van.
Kemme didn't yet have her son Ronan, but she and her husband knew they wanted to start a family and one of them would have to ditch his or her sports car in order to make room.
"We both had little sports cars and so we each decided that mine would probably be the best one to let go," says Kemme, who also says she felt a bit as if she was "giving up my youth" by purchasing one. Though she is quick to add, "I like the minivan, though."
Will Carroll, a sales manager at Jack Ellena Honda, 2112 W. 29th Terrace, says that if he had to buy a family car, he'd face the same dilemma that Kemme felt — a loss of youth in purchasing one. Which is exactly why, he says, that the sport utility vehicle has become the "new" minivan for many families.
"It definitely has become the minivan," Carroll says. "I would probably put my wife in an SUV rather than a minivan, just because of the fact that it's more manly and if I had to drive it, it would be cooler. I think that's kind of the mentality of it."
But Braden says, uncool or not, status symbol or not, he is proud to be driving his van because he knows exactly what it can do for him.
"I mean, it doesn't bother me to be driving a van, I'm not into this macho masculinity, stereotype thing," Braden says. "You know, it serves a purpose for what I need it for, so I'm fine with it. You know, I've driven tractor-trailers and I've driven cars, it's nothing to be driving a van. It's a functional vehicle to me, it serves a number of purposes."
Copyright 2018 The Lawrence Journal-World. All rights reserved. This material may not be published, broadcast, rewritten or redistributed. We strive to uphold our values for every story published.