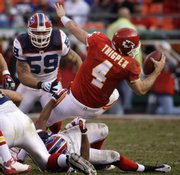 Kansas City, Mo. — Needing only to eke out a win, the Buffalo Bills wound up smashing a record.
A mistake-free Trent Edwards threw for two touchdowns and ran for two more, and the Bills romped past Kansas City, 54-31, Sunday, breaking a four-game losing streak while scoring more points than anyone ever scored before against the Chiefs.
Snapping smartly out of a demoralizing slump that threatened to waste a 5-1 start, the Bills came within four points of matching their 42-year-old record for points in a game.
The Chiefs (1-10) had five turnovers while losing for the 19th time in 20 games, by far the worst stretch in franchise history.
"It's embarrassing," said Chiefs linebacker Derrick Johnson.
The Bills (6-5) scored 20 points off turnovers.
Edwards looked nothing at all like the guy who in his 13 previous quarters had thrown eight interceptions while losing two fumbles and managing only three touchdown passes. He hit 24 of 32 for 273 yards and two TDs and had touchdown runs of five and 15 yards.
The previous high against the Chiefs was 51 in an overtime loss at Seattle in 1983. The Chiefs, who were starting to turn the corner after playing their last four opponents close, were penalized nine times for 75 yards.
"I anticipate they'll come to work Monday," coach Herm Edwards said. "They know what they did wrong. You've got to play smart and not turn the ball over and be careful with the fouls."
Copyright 2018 The Associated Press. All rights reserved. This material may not be published, broadcast, rewritten or redistributed. We strive to uphold our values for every story published.