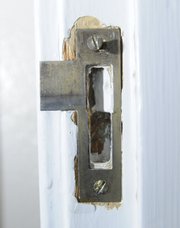 If you live in an older home with wooden doors, chances are one or more of your doors no longer latches when it shuts. A quick fix for this is to move the strike plate over a little bit.
Step 1: Use a screwdriver to remove the strike plate from the door jamb. Shut the door. If it catches your job will be a lot easier, if not, you will need to use a wood chisel to make the hole in the door jamb a little bigger.
Step 2: Use a pencil to mark the jamb where the latch catches, so that you will know where to position the strike plate.
Step 3: If the new screw holes will be too close to the old screw holes, fill the existing holes with two-part epoxy putty. Once the putty has hardened, place the strike plate in its new position and screw it into place.
Step 4: You may want to pre-drill the new screw holes, but usually the door jamb wood is soft enough that you should not have any trouble starting the screws by hand. Older homes tend to shift with the seasons. Sometimes just unscrewing the strike plate, moving it and screwing it right back into place, using the same screw holes, will do the trick. Don't be too aggressive when moving the strike plate; it's amazing how a little adjustment can go a long way.
Copyright 2018 The Lawrence Journal-World. All rights reserved. This material may not be published, broadcast, rewritten or redistributed. We strive to uphold our values for every story published.