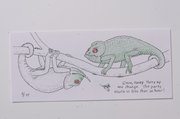 Don't want to hit the card store to send out Christmas letters and cheer this holiday season?
Take some tips from three area card-crafters on how to make your own cards to delight people on your mailing list.
• Alynn Jackson sends out approximately 70 cards each year.
"I thought I was clever enough to make them myself, and I can give something of myself in a visual sense," she says.
Jackson tends to use animals in her humorous cards.
She initially used regular copy paper, but as time went by she upgraded to thicker paper. Since she hand-colors each card individually (the red and green touches that make the cards look like Christmas) she says that "the design needs to be simple enough to make that part of it not too labor intensive."
She suggests using a fine-tipped black Sharpie for the original card so it copies more clearly.
• Carol Pilant says she and her children almost always made Christmas cards at home.
"Children are so good at capturing the spirit and the fun of an occasion," says Pilant, adding that her technique includes using flat Styrofoam food containers. "We'd draw on the container with a pencil or pen, then use an ink roller and tempera paints in a flat container to roll the paint out much like you'd paint the wall with a roller and then press the image on blank card stock."
• Carole Peters, rural Baldwin City, has been painting with water colors for 14 years. She recently completed her first homemade Christmas card when she took an original 12-by-16-inch watercolor to a local print shop, where it was processed into 40 double-folded cards for $1.25 apiece.
• Not as quick on the draw as these ladies? Wendy Wayland, media supervisor at Best Buy, suggests Hallmark Greeting Card software priced at $24 and $29. And Nick Lawrance, customer service specialist at Office Depot, says the store stocks Printmaster basic software for card making; Platinum sells for $39.99 and Gold for $19.
Copyright 2018 The Lawrence Journal-World. All rights reserved. This material may not be published, broadcast, rewritten or redistributed. We strive to uphold our values for every story published.