Event
KU vs. Syracuse
Where: The Sprint Center, 1407 Grand Blvd., Kansas City, MO
Age limit: All ages
Cost: Not available
-->
-->
Photo Gallery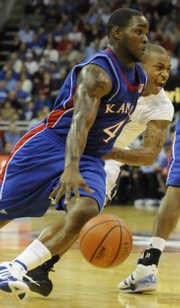 KU vs. Washington
-->
FINAL: KU wins, 73-54
Collins misses a three, but Aldrich is right there for the stickback.
Travis Releford checks in at the 2:44 mark for his first action. Looks like he's the one that's being left out of the Jayhawks' eight-man rotation.
After a rebound by Reed, KU runs the transition to perfection, as a Taylor feeds Aldrich for a thunder dunk.
Following a steal, the Jayhawks run well again, as Releford gets a layup inside off a Reed assist.
Conner Teahan gets a three from the top, and maybe that will help get him out of his shooting slump.
The clock runs out, ending a solid effort for KU, especially on the defensive end.
KU 60/UW 44 — 3:52 left in game
Morningstar is late on a rotation, and Washington drains a three. Self isn't happy, yelling out at both Reed and Morningstar.
Aldrich follows with an NBA move inside, faking outside before cutting back into the lane for an easy lay-in.
The Huskies hit another three from the corner, but Collins responds with two more on a dribble drive.
Isaiah Thomas puts in another three, and suddenly the ice-cold Huskies have hit three long-range shots in a row.
Off a nice feed by Morningstar, Marcus Morris gets an easy layup inside.
KU 52/UW 33 — 7:22 left in game
Reed hits a 15-foot fallaway jumper, and KU's up 49-28.
Following a three from Washington, Marcus Morris shows a nice turnaround in the lane. He still has fumbled a few inside and hasn't had the best of hands while receiving the ball tonight.
KU 47/UW 28 — 11:55 left in game
Collins drive in and forces a blocking call, which brings a standing ovation from the pro-KU crowd. Pretty sure it's the first blocking call we've seen tonight. He hits both freebies.
Collins follows by stealing the ball from Brockman before laying it in on the other end.
Two more blocks by Aldrich, who's having one of the best games of his career. That's six blocks for the sophomore.
KU 43/UW 28 — 15:59 left in game
Marcus Morris gets two on a nice feed inside by Collins.
Morningstar gets beat on a curl inside, and Quincy Poindexter makes him pay with a three-point play.
Collins follows with his own three-point play, making a shot in the lane and the subsequent free throw.
Taylor hits a floater, and Marcus Morris adds a turnaround jumper to push KU's lead to 41-28.
Off a Morningstar steal, Taylor rattles in a dunk, and Washington calls timeout. Collins does jumping jacks at mid-court, urging the fans to get out of their seats and cheer. They do just that.
Kansas scoring
Cole Aldrich 8, Sherron Collins 7, Tyshawn Taylor 6, Markieff Morris 4, Marcus Morris 4, Brady Morningstar 3.
KU was 13-for-24 from the floor (54 percent), 1-for-4 from three-point range (25 percent) and 5-for-6 from the free-throw line.
Also of note, Aldrich has four blocks, and KU has seven as a team.
Washington also shot miserably in the first half, making just nine of 38 shots (24 percent). The Huskies were just 1-for-10 from three-point range.
Also a concern for KU: Washington was dominant on the boards, out-rebounding KU, 28-13. UW had 17 offensive rebounds, and Brockman had 10 by himself. The Jayhawks are fortunate to be up 10 with such a discrepancy.
KU 32, UW 22 — Halftime
Markieff Morris finishes a nice move with a shot off the glass inside.
KU continues to play a 2-3 zone, presumably to stay out of any more foul trouble.
Tyshawn Taylor hits a floater in the lane, but after a possession where Washington couldn't score despite getting five-plus offensive rebounds, Taylor misses a wide-open transition layup after getting a feed from Collins.
Big play for KU at the end of the half, as Justin Dentmon is blocked inside by Aldrich with 5 seconds left. Quickly, the Jayhawks threw it upcourt to Taylor, who hit a finger roll just before the buzzer to give KU a 10-point halftime edge.
KU 26/UW 22 — 3:50 left in 1st half
KU comes out next defensive possession with a 2-3 zone, and the Huskies miss a pair of open threes.
Aldrich hits a 16-footer on a feed from Collins, and KU is up 23-14.
After a missed free throw, Brady Morningstar hustles to get a steal. He was bumped while going up for the shot, putting in a layup before throwing his fist out in celebration. He finished the three-point play to put KU up 10.
Quintrell Thomas gets two fouls in a matter of 30 seconds, and he now has three personals. He'll have to sit the rest of the half.
Brockman gets a stickback on an offensive rebound, capping a 6-0 run that cut the KU lead to 26-22.
A bad pass inside by Taylor leads to his best highlight as a Jayhawk. After racing back on defense, Taylor got way above the rim to reject a layup by Isaiah Thomas out of bounds.
KU 19/UW 14 — 7:43 left in 1st half
Chiefs running back Larry Johnson is shown sitting in the stands, and he draws immediate boos from the fans. He still had a smirk on his face and seemed to almost enjoy it.
Collins is called for a charging foul, and that's two on him. Morningstar comes in to replace him.
Aldrich gets a two inside, and KU leads 17-8.
Collins comes back in with 9:24 left. We'll see if he can avoid his third foul.
Aldrich turns a bad pass into a good one, snatching it away from a defender before slamming it home.
Marcus Morris picks up his second foul, again on a charging call. This officiating crew is a charge-happy bunch.
Marcus and Markieff Morris have both gotten into brief scuffles with Washington players in the last minute. Both could stand to settle down a bit.
KU 15/UW 8 — 11:55 left in 1st half
Sherron Collins hits an 18-foot fadeaway, then nods in satisfaction as he goes back down the court. That's seven points on 3-for-3 shooting for him.
With a young team out there (Morris twins, Tyrel Reed, Morningstar, Taylor), Marcus Morris finishes with a tough move inside, going under the basket before pivoting back into position for a layup.
KU 7/UW 7 — 15:34 left in 1st half
Sherron Collins hits his first shot, a pull-up from 15 feet to give KU the first points.
Interesting that Self is having Marcus Morris guard Jon Brockman. It's worked well so far.
Cole Aldrich, after getting double-teamed inside, finds an open Marcus Morris for a lay-in.
Already, KU has had two charges, one on Taylor and one on Marcus Morris.
Isaiah Thomas is proving to be a pesky defender and also a capable scorer. He skies over the defense for a three from the top of the circle.
Aldrich responds, though, once again finding the open man on a double-team. This time, it's Collins, who drains a three from the left wing to tie the score at 7.
Aldrich misses an easy one, then picks up his first foul going for an offensive rebound. Double whammy for the Jayhawks.
8:56 p.m.
KU starters: Sherron Collins, Brady Morningstar, Tyshawn Taylor, Marcus Morris, Cole Aldrich.
8:53 p.m.
A good KU crowd tonight at the Sprint Center, but not close to a sellout. Many of the upper sections are more full than the lower sections. Interesting.
Keep an eye on Travis Releford tonight. Remember, he's from Kansas City, Mo., so this is truly a homecoming for him.
8:35 p.m.
Syracuse holds on, winning 89-83. Great game for quick sophomore point guard Jonny Flynn, who finished with 18 points on 5-for-7 shooting. Paul Harris, from Niagara Falls, N.Y., like Flynn, also had 18 points. The Orange won despite a so-so game from former McDonald's All-American Eric Devendorf, who had nine points on 3-for-11 shooting.
Interesting scenario now for the loser of the KU-Washington game, as that team will have to take on a disappointed (and ranked) Florida squad.
8:04 p.m.
Syracuse has pulled ahead of Florida in somewhat of a surprise (74-67, 6:45 left). Both teams are big and athletic and look like they could pose matchup problems inside for KU.
7:16 p.m.
Welcome to the Newell Post Live, coming to you from the Sprint Center in Kansas City, Mo., where Kansas is getting set to play Washington in the CBE Classic later tonight.
Syracuse and Florida have tipped off, so we'll get to some observations of that game a little later.
For now, let's get to three keys for the Jayhawks as they go up against the Huskies.
1. Avoid the whistles
Washington's 6-foot-7 forward Jon Brockman is a preseason All-American and has averaged 20.3 points and 11.3 rebounds through three games this season.
The Jayhawks will need to have all of their available bodies to throw at him defensively, meaning it will be important for both Cole Aldrich and Marcus Morris to avoid the early fouls that have plagued them in the first two games.
2. Make outside shots early
KU has already shown a tendency to be a streaky team from the outside, going 1-for-13 from behind the arc against UMKC before making 7 of 18 three-point shots against Florida Gulf Coast. Sherron Collins, Tyrel Reed and Conner Teahan have seemed to have more confidence when the early shots have been falling, so we'll see if they get off to a hot start tonight.
3. Guard the perimeter
KU's newcomers are still learning to play defense the way coach Bill Self wants them to but, ready or not, they'll get a tough challenge tonight. KU's guards will especially get tested, as WU senior guard Justin Dentmon is averaging 15 points per game and freshman Isaiah Thomas (no relation to Isiah Thomas) has posted 12.3 points per contest. Watch closely to see how guys like Tyshawn Taylor and Travis Releford handle their assignments on the defensive end.
Copyright 2018 The Lawrence Journal-World. All rights reserved. This material may not be published, broadcast, rewritten or redistributed. We strive to uphold our values for every story published.