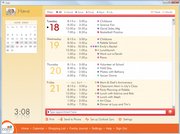 As a mom, Hilloree Wilson knows about how quickly her family can get swamped with obligations, events and outings.
Among herself, her husband, Joshua, and her two young children with a third on the way very soon, things can pile up quickly for the Lawrence family.
"I have a daily calendar. It's paper. Just a book," she says.
Wilson uses a planner because it's what she is comfortable with.
She can carry it in her purse and pull it out quickly to write down plans for an outing with another family or a home-school obligation for the children.
Her husband, who works in Overland Park, uses an electronic calendar on his laptop computer, which he can't take with him everywhere.
"It's good for him to keep track of his own things," she says.
But Wilson says she knows other families who plan their events and family schedules on portable electronic devices.
She just doesn't feel comfortable trusting a cell phone or computer with her plans. What if they malfunction or break? She still has her trusty book, she says.
But with so many families becoming more dependent on computer and electronics, companies have begun to market products to help with planning.
While some have tried to design specific computers that might even fit in the kitchen, another, Cozi Group Inc., has designed a Web site that includes a free calendar program available for download.
With so much technology floating around, Cozi.com is an effort for families to streamline their calendar to include events, shopping lists and even a messaging system.
Families can also synchronize it with other calendars like Microsoft Outlook. Company officials say it's meant to be simple to keep parents from scrapping it and going back to a paper calendar.
Wilson, of Lawrence, says she could see more families taking advantage of similar technological advances, but only if they reach a certain comfort level.
"It probably just depends on the style of the family," Wilson says.
But she's just not there yet. She'll stick with the book in her purse and a quick reminder to her husband, so he doesn't forget.
"All I do is turn a page and write with my pen," she says.
Copyright 2017 The Lawrence Journal-World. All rights reserved. This material may not be published, broadcast, rewritten or redistributed. We strive to uphold our values for every story published.