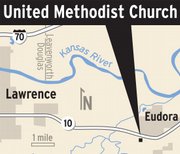 Members of Eudora's newest church Monday afternoon watched as the inside of the building sustained fire and smoke damage.
Fire broke out about 2:15 p.m. at the new Eudora United Methodist Church in southwest Eudora. Eudora fire officials said the sanctuary — the origin of the blaze — suffered fire damage. Smoke also caused damage throughout the building.
"It's a tragedy and especially at the holiday season," said church member Bill Westerhouse, who watched firefighters try to contain the fire. "There are a lot of people that put in really their whole life for two years into making it, and I'm sure they'll be back."
The church, which opened in February, was built to be environmentally friendly. Many of the church's members contributed to its construction.
Crews from Eudora City Fire Department, Eudora Township Fire Department, Wakarusa Township Fire Department, Palmyra Township Fire Department and Lawrence Douglas County Fire & Medical responded to the scene. No injuries were reported.
"When we got on scene and made entry into the sanctuary, there was a lot of heat, heavy smoke, and that's where the fire was contained to, up to the front of the sanctuary," said Duke Verhelst, assistant chief for the Eudora Township's department.
He said the church's alarm company notified emergency dispatchers of a possible fire, which caused fire personnel to come to the scene.
A damage estimate and a cause were not available Monday evening. Investigators with the Kansas State Fire Marshal's office were still on the scene Monday night.
Copyright 2018 The Lawrence Journal-World. All rights reserved. This material may not be published, broadcast, rewritten or redistributed. We strive to uphold our values for every story published.