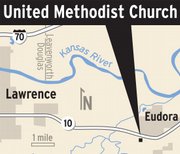 With almost a decade of fundraising behind them, the members of the Eudora United Methodist Church were lagging.
They'd spent all that time trying to make their new church along Kansas Highway 10 a reality, yet they had not broken ground, and they didn't have all the needed money.
The new church seemed another 10 years away.
But then member Don Bradshaw awoke one morning with a jolt. Grabbing pencil and paper, he sketched the outline of a giant cross, a red flame billowing from its form - the official symbol of the global United Methodist Church.
Within a year, the cross was a reality, standing tall above the cars passing by on K-10 with a clear message to be heard through the blustery wind.
We will build.
This will happen.
The new UMC building will come and join this cross.
"Once we got the cross standing, everyone was re-energized, because (we'd) been in such a long campaign to get everything put together so that we could build the church," Bradshaw says. "Once that went up, it was just like we had a renewed spirit. Everything started clicking after that."
In July 2006, ninth months or so after the cross was erected, many of the 200 members of the church lined up on the patch of land, 38 acres sold to them by members Carroll and Eva Bell Gerstenberger, and broke ground. Attending the ceremony was the church's new pastor, the Rev. Michael Tomson-DeGreeff.
"My first Sunday was in July. My second Sunday we came out here with shovels and broke (ground). So, on my first Sunday, they said welcome and they literally said, 'We hope you have your running shoes because we're going to hit the ground running,'" Tomson-DeGreeff says. "And it really has been a whirlwind ever since."
Over the next year and a half, church members - young and old, single and married with kids - worked days helping to build the church by hand. After Lawrence's B.A. Green Construction Co. finished contracting the building shell, Bradshaw, a professional contractor himself, took over as the building project manager for the interior. Members met each day, putting up dry wall, painting and making the building their own - literally.
"You know, the last two years, we've been building a lot of this with our own hands," Tomson-DeGreeff says. "I mean, I was out here and the members of the church were out here putting up the walls and painting and doing it ourselves, so we saved money, but there's also that sense of ownership. And inside these walls we wrote prayers and our names, you know, really cool stuff. A lot of ourselves are invested in this space, so it's really cool."
Open for its first official Sunday on Feb. 3, the finished product is a $1.5 million green machine. The building comes in at just under 15,000 square feet, complete with Earth-friendly features such as tinted windows, radiant heat, heavy insulation and a special green product exterior. The new site also has six classrooms, three offices, a fellowship hall, kitchen, youth room and sanctuary.
Finally getting into the new space meant a sigh of relief for Tomson-DeGreeff and his congregation, who had been juggling several locations that were considered "home" to the church. The church had sold two of its pieces of property to fund its project, including its building for the past 80 years, at 703 Church St. With the old building sold and the new building yet to be complete, the entire church was constantly on the move.
"My experience over the past two years has been moving things in boxes. I mean, I've had several offices, and we had to set up every Sunday at our temporary space over at the Warren-McElwain chapel, so it's been a very nomadic life for the last two years," Tomson-DeGreeff says. "You have to think on your feet and be flexible, you know. 'We are we going to have this dinner? OK, we'll go to City Hall for our dinner.' 'Where are we going to have this?' We'd have to use any facility or any house we could find. Just do whatever we had to do to do ministry. It was exciting, but it was exhausting."
Room to grow
The church is banking on all that energy being worth it as Eudora continues to grow, Tomson-DeGreeff says.
"The building that was at 703 Church Street was built 80 years ago, and essentially, everything about this building is different than the old building," he says. "This building is bigger. It's all on one level, so there's no issue for handicap accessibility. It's more visible within the community, especially being on K-10, and we're closer to the new schools and new subdivisions - you know this will be surrounded by houses in the future. And there will be an exit right off K-10 here, so we were just planning ahead."
Well, actually, there's no plan for a K-10 exit just yet, but Tomson-DeGreeff has contacted the Kansas Department of Transportation and was told that when the people come, an exit may come. The pastor and the United Methodist Church have no doubt that eventually those people will show, and there will be a lot of them. Tomson-DeGreeff says the UMC eventually plans to build six more churches along the K-10 and K-7 corridors to serve more than 100,000 it expects to move into the area.
The Eudora UMC also has expansion plans, with designs rendered for more additions to the new church - a larger sanctuary and a gymnasium with more classrooms and bathrooms.
Tomson-DeGreeff says that the remaining phases are open-ended in nature and could break ground anywhere from 10 years to 30 years from now. In the present, the pastor says he's proud of his church for being clever about the future and clear about the past.
"It's really a remarkable church in the sense that they, they've got over 150 years of history, and they were able to dig deep and say, 'We want to stay alive and vital, we have to let go of our cherished old church,'" he says. "Honestly, for the size of the church, it's remarkable to build a $1.5 million church with 200 members. I'm overwhelmed by people's willingness, their generosity, their willingness to step up. It's amazing.
"This church is very vibrant."
Copyright 2018 The Lawrence Journal-World. All rights reserved. This material may not be published, broadcast, rewritten or redistributed. We strive to uphold our values for every story published.